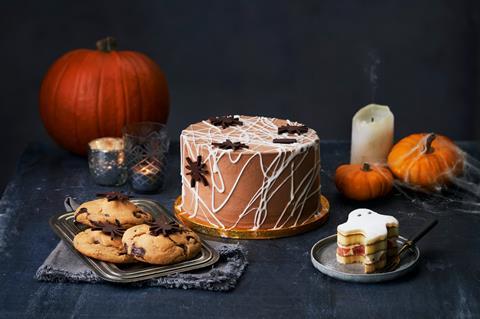 Get ready for the season of scares! Bakers are getting into the spirit with an array of tricks and treats for Halloween.
Longboys, New York Bakery Co and Paul UK are among those to reveal new products including spooky doughnuts, bagels, and cakes.
Pleesecakes, Country Choice and Konditor, meanwhile, have already revealed their plans for Halloween.
Things are a little different this year as social distancing rules will be haunting this year's celebrations.
Here's our pick of the latest Halloween NPD: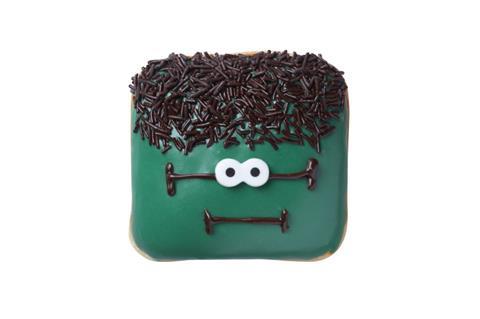 Krispy Kreme
Krispy Kreme has rolled out a limited-edition range of Monster Madness Halloween doughnuts to celebrate the scary season.
At £2.25 each, the treats come in the form of the creepy Halloween characters such as the Frankie, with brownie batter filling and the face of Frankenstein's monster. The Wolfie is made up of a signature ring doughnut smothered in chocolate frosting and a werewolf face, while the Vampire has a raspberry filling with the face of Dracula.
For something a bit less spooky, consumers can try the Spooky Sprinkles ring doughnut which has chocolate icing and sprinkles or opt for the Zombie Pop ring doughnut with icing and popping candy crunch. Both doughnuts are available for an rsp of £1.85.
The Creepy Creations Kit features a box of four Original Glazed doughnuts. Those with a penchant for DIY can create their own monsters at home for an rsp of £14.95 plus delivery.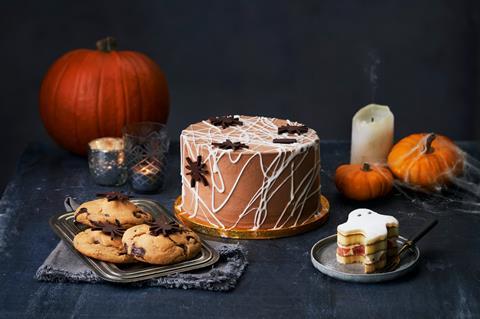 Paul UK
To get into the Halloween spirit, Paul Bakery has unveiled some devilishly sweet treats.
Ready to sink your teeth into a Spooky Spider Cake (£46.95)? It comprises a dark chocolate sponge, rich chocolate buttercream and strawberry jam filling, web of white fondant icing and dark chocolate spiders. Consumers can find the cake online to pick up from a Paul shop or buy in store from 26 October-1 November.
Its Creepy-Crawly Cookie, in store now until 1 November, features a soft and chewy chocolate chip cookie topped with a chocolate spider. It's available for an rsp of £1.85 for takeaway and £8 for six.
The Boo! Halloween Frasier comes alive with its light Genoese sponge shaped like a ghost, mousseline cream, fresh strawberries and marzipan. Consumers can find the individual cake in store from 26 October-1 November.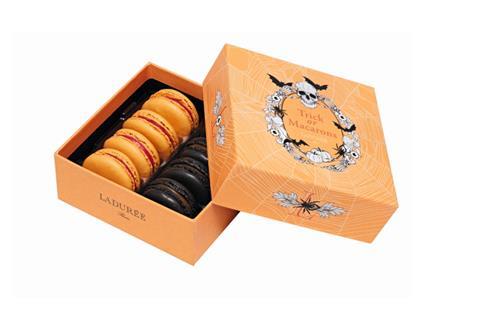 Ladurée
The French luxury bakery has unveiled an exclusive Halloween-inspired box of macarons.
Prepare to scare with a Gift Box of 8 Macarons for an rsp of £21.50. Encased in a glow-in-the-dark skull and bones box, the grenadine macarons comprise two orange shells filled with a pink gourmet natural grenadine flavour cream. An additional flavour, available on 31 October, comes in the form of four liquorice-flavoured macarons.
The limited-edition Gift Box of 8 Macarons Halloween is available now in all Ladurée's UK stores and nationwide delivery via its website, until 31 October.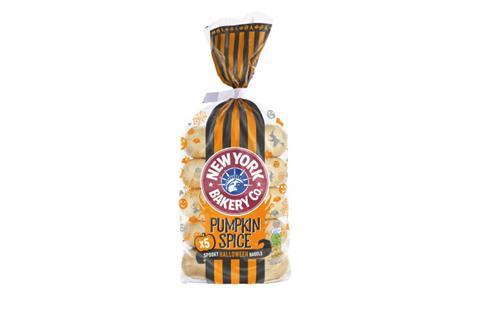 New York Bakery Co
The bagel brand has teamed up with Asda to bring its Pumpkin Spice bagels back from the dead.
Following its successful launch in 2019, the bagel has returned due to popular demand, said the firm.
The Pumpkin Spice bagel (£1/five pack) is infused with cinnamon, nutmeg, ginger and cloves. To increase the spook factor, it is wrapped in Halloween-inspired black and orange packaging.
New York Bakery Co has doubled its availability in store, expecting even more interest this year, it added.
"The Pumpkin Spice Bagel combines the spirit of the season, with the brand's love of fun, bringing something bold, enjoyable and genuinely spooktacular to the category," said Rhiannon Heap, senior brand manager at New York Bakery Co.
The bagels are available now in Asda stores for a limited period of three weeks.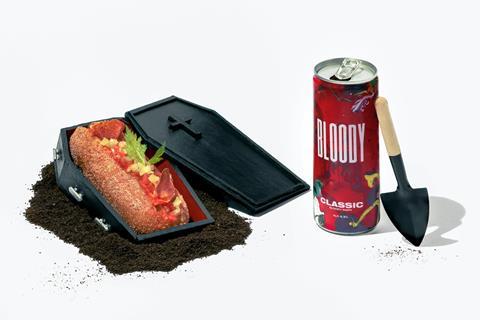 Longboys
London-based drinks brand Bloody Drinks has joined forces with doughnut specialist Longboys to create The Bloody Longboy.
Spiked with the Bloody Classic drink from Bloody Drinks, the creepy doughnut is filled with Bloody Mary crème, confit tomato, lemon celery confiture and Bloody Mary gel. It is then finished off with tomato & celery crisps and tomato sugar dustings.
The Bloody Longboy (£3.90) was created and developed by the drink brand's co-founder Graham Hornigold.
The creepy doughnut is on sale until 1 November. It is available in Longboys stores in Coal Drops Yard and Wembley Boxpark, as well as on Deliveroo and the Longboys website.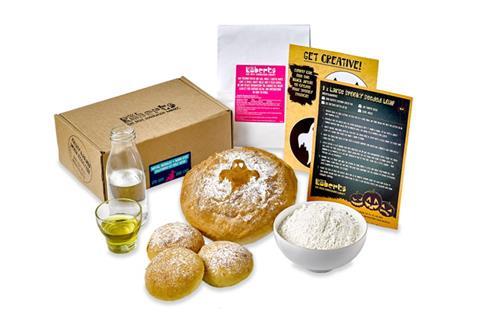 Roberts Bakery
To prepare for the witching hour, Roberts has unveiled a vegan-friendly Halloween Baking Kit.
The 1kg limited-edition kit contains a host of ingredients to bake two large Spooky Seeded Loaves and twelve pumpkin rolls. Consumers need to add water and olive oil, stir and knead, before placing it in the oven for 20 minutes.
The kit, which features Roberts' premium bread flour mix (£8.50), includes pumpkin and ghost flour stencils.
The Halloween Baking Kit is available to buy online with next day delivery.
"We hope that our Halloween Baking Kit will help us all get into the spooky spirit whilst cooking up a scary supper for the family. Fill your freshly baked pumpkin rolls with banging burgers, add sizzling sausages between slices of Spooky Seeded Bread, and cover with lashings of blood – well, tomato – sauce, for a terrifyingly tasty twist," said Alison Ordonez, innovation and quality director at Roberts Bakery.