British consumers know they need more fibre in their diet, but the majority aren't doing much about it.
One easy way of boosting fibre intake is to eat wholemeal bread – or bread with a blend of wholemeal and white flours. But there's no getting away from the fact Brits love good old white bread, which accounts for more than half the UK market.
Given this, how can bakers look to boost the fibre content of a white loaf?
At the risk of stating the obvious, one approach is to add fibre, as Hovis has done for the launch of the 600g Fabulous Fibre loaf rolled out in May. This uses inulin fibre, but a range of options are open to bakers.
"We've made good progress using wheat fibre and we're now looking at inulin and other vegetable fibres, which are fructans, that support gut health," says Alison Ordonez, director of innovation and quality at Roberts Bakery.
She adds that the impact fibrous materials have on water absorption means managing the effects of higher fibre on production processes and shelf life is a concern. "To develop a product that is compromised on either will make it unappealing to consumers and therefore commercially unviable," adds Ordonez.
Tate & Lyle has been working with customers to find ways to boost fibre content in white bread using soluble fibres such as its Sta-Lite polydextrose and Promitor. The company says it has fortified loaves with up to 12% fibre by using these with stabilisers and functional ingredients.
"Taste is a number one purchase motivator for most consumers, so we make sure our fibres have a clean taste as well as a neutral colour," says Saquib Ramday, category director for beverages, bakery and confectionery at Tate & Lyle Europe.
"We're now looking at inulin and other vegetable fibres, which are fructans, that support gut health"

– Alison Ordonez, director of innovation and quality at Roberts Bakery
Another option for bakers is the use of alternative, non-wheat flours.
"This is an area that we expect to grow over the next two to five years, due to its health properties and, in particular, high fibre content," says Tasneem Alonzo, joint managing director for the Lähde brand by EHL Ingredients.
The business has seen increased demand for flours such as gram, buckwheat, coconut, almond, and rice, while ancient grains such as quinoa, spelt, teff and millet also continue to rise.
Like many ingredient businesses, Tate & Lyle has also been tapping consumer interest in cleaner labels with its fibre.
"We have seen the demand for 'clean-label' products become a leading trend in recent years, as consumers seek foods with simple, wholesome ingredients they know and trust," says Ramday, adding that its Promitor soluble fibre can be labelled as 'soluble corn fibre'.
Meanwhile, a group of international scientists led by UK operations Rothamsted Research and the John Innes Centre have produced a flour claimed to produce white bread with double the fibre content of a traditional loaf. The team said high-fibre bread and other products made from white flour could be a staple within just five years, now that breeders have a new tool with which to screen wheat lines.
When Hovis launched its high-fibre loaf in May, it said consumers shouldn't have to change their lifestyle or meal choices to get more of the fibre they needed. It seems that is set to increasingly become the case.
Study reveals fibre attitudes
Only 38% of consumers make sure they follow a high-fibre diet, according to study by Hovis among more than 2,000 UK adults.
Yet 89% of respondents said they recognise eating fibre each day is important and four-fifths (81%) of those surveyed believe wholemeal bread is a good source of fibre.
The research finds that 79% know fibre helps digestive health, with 38% also recognising it could help maintain normal blood cholesterol levels.
However, only 38% say they ensure their diet is high in fibre, and a quarter don't know how much fibre they consume. According to the study, half of consumers don't know
how much fibre the average adult should eat each day, and only 14% identify that the daily target is 30g.
High-fibre innovation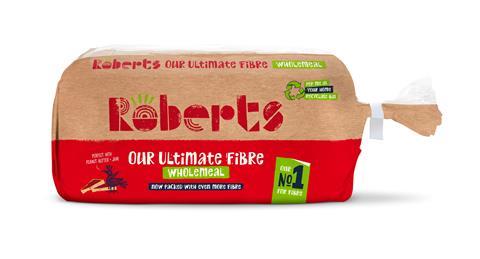 Ultimate Fibre Wholemeal, Roberts Bakery
Launched: June 2020
Roberts has extended its healthy breads line-up with the Ultimate Fibre Wholemeal loaf, that replaces its previous wholemeal. Described as a "wholesome take on the bakery's original wholemeal classic", it has 8.7g of fibre per 100g. Roberts says it is the brand's highest-fibre wholemeal loaf to date and, on average, has 30% more fibre than other wholemeal products.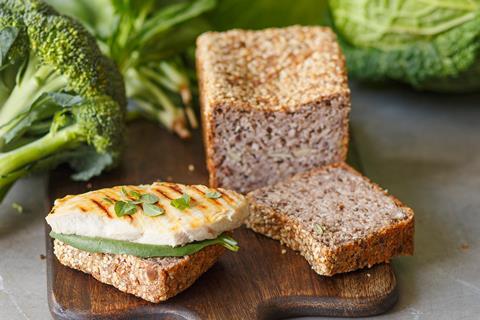 Fermented Buckwheat & Linseed Bread, Len & Grechka
Launched: April 2020
Russian bakery brand Len & Grechka has made its debut in the UK by partnering with gluten-free bakery and distributor Artisan Bread Organic. Each 365g loaf of this Fermented Buckwheat & Linseed Bread contains seven slices and costs £5.15. Made with untreated green buckwheat using a 12- to 15-hour sourdough fermentation process, it contains 9.7g of fibre per 100g.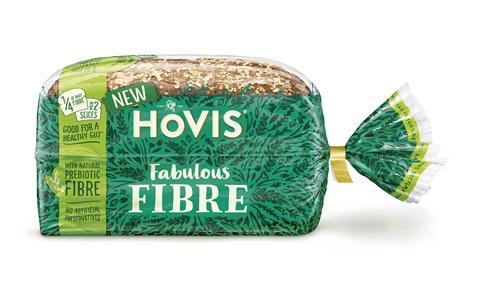 Fabulous Fibre loaf, Hovis
Launched: May 2020
Hovis hopes to encourage health-conscious consumers to reappraise pre-packaged breads with this 600g loaf (rsp: £1.50), which is baked with inulin fibre and contains no artificial preservatives. Two slices of Fabulous Fibre contain 8g of fibre, which is quarter of an adult's daily target intake, says Hovis. In contrast, its medium white bread contains 2g of fibre per two slices, and medium wholemeal 5.4g.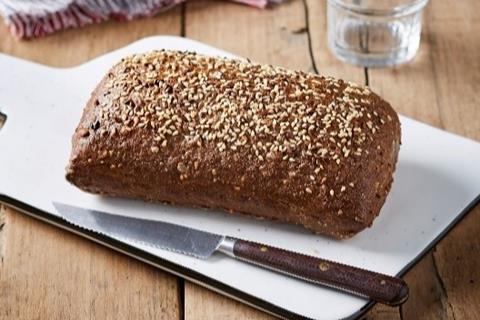 Nordic loaf, Bridor
Launched: March 2020
The 280g Scandinavia-inspired traditional dark rye bread was introduced as part of Bridor's 2020 strategy to 'share the bakery cultures of the world'. Made with a blend of organic flours and grains, the rye bread has "a rich and tasty recipe based on wheat, rye and malted barley flours, with a generous amount of add-ins such as brown flax, sesame and sunflower seeds", says Bridor.