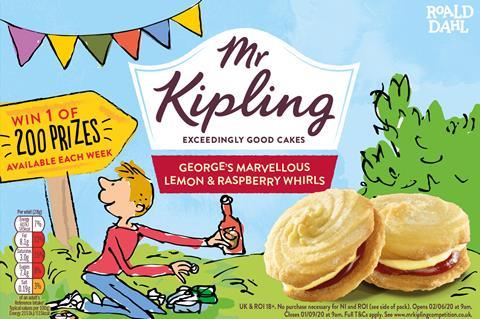 Sales of Premier Foods cakes have bounced back following a slowdown in the early days of the lockdown.
In a trading update for the 13 weeks ended 27 June, the company said sales of branded products from its Sweet Treats division, which includes Mr Kipling and licensed Cadbury cakes, rose 0.5% year on year.
Total sales across the division, including own-label products, rose 0.7% year on year.
The business reported that cake volumes were down early in the quarter, but returned to growth in the latter part.
Mr Kipling was backed by eight weeks of a TV advertising campaign and also benefited from the launch of its Mini pies range and Signature premium ranges.
Cadbury cake sales grew in the UK, with the core Cadbury Mini Rolls range performing "very well", said Premier.
The business also reported strong demand for its recently launched Cadbury baking mixes as consumer interest in home baking soared during lockdown.
"This demonstrates that demand for the group's product ranges have been not only for its core ranges, but also new product innovation, as consumers expand their repertoire of meals eaten in home," stated the firm.
The business supplies cakes to Australia and reported a dip in sales in the market as demand fell during lockdown.
Total sales across Premier, which produces grocery brands including Ambrosia, Oxo and Sharwood's, rose 22.5% year on year as its grocery division benefited from more consumers making their own meals.
"As expected, we continued to see strong demand for our grocery brands in Q1, with consumers eating the vast majority of their meals at home," said Premier chief executive officer Alex Whitehouse.
"We have grown faster than our categories during this period, both in standard retail and online channels. This reflects not only the strength of our brands, but also the excellent performance of our colleagues across the supply chain to ensure product availability while working in close collaboration with our customers to meet this elevated demand."
Premier said its second quarter had got off to a strong start but expected sales to level out as consumers gradually returned to eating out of home.