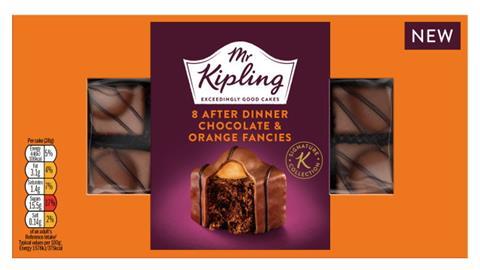 Premier Foods-owned Mr Kipling has expanded its line-up with chocolate & orange fancies.
The After Dinner Chocolate & Orange Fancies (rsp £2.50) will expand its Signature Collection, which was launched last September and is already worth £1.8m, according to Premier.
The Signature Collection was developed to meet growing demand for treats that deliver distinctive, high-quality flavours, explained the company.
"Our Signature Collection fits a clear consumer desire, which has been demonstrated by the positive results of the range to date. We have been blown away by the early performance of our After Dinner Mint Fancies with almost £1m retail sales value to date," said Matthew Bird, brand director for sweet treats at Premier Foods.
"We're excited to give the range wider appeal, with flavour research showing chocolate & orange is a popular paring and is incremental to mint."
The new fancies will join current Signature Collection cakes, including: After Dinner Mint Fancies; Apple, Pear & Custard Crumble Tarts; and Chocolate, Caramel & Pecan Slices.
After Dinner Chocolate & Orange Fancies are rolling out now to Tesco and will be listed in Co-op later this summer.