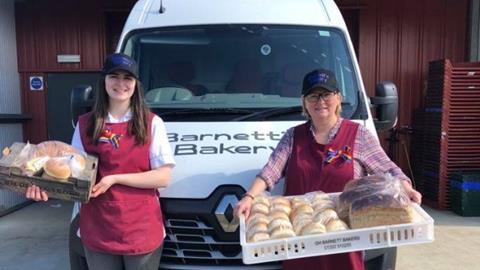 Scottish business Barnett's Bakery has launched a delivery service and 'bake off' competition to help its local community.
The bakery began the service by offering free deliveries for vulnerable and elderly consumers in Anstruther, ordering extra contactless card readers to accept payments and to help keep staff and customers safe.
It has since extended deliveries to all local customers, in addition to the vulnerable.
"We've continued to work closely with our wholesale customers who are also providing vital services within their local communities too, from Kirkcaldy to St Andrews to Dundee. Baking is a passion and that keeps us going at a time like this," said Mhorag Barnett, owner of Barnett's Bakery.
"We wanted to do so much more so we have also been donating bakery goods to Cupar Children and Families Social Work Team to help feed local families during this time of crisis. They're able to choose from a selection of breads, savouries and cakes."
Barnett's has also maintained essential items in its shops, as well as extra cupcakes and cream cakes, which are being restocked daily.
To help combat the flour shortage in supermarkets, the bakery has divided supplies into 1kg bags to sell three types of flour, dried yeast and jars of sourdough starter.
Barnett's is also running The Great Barnett's Bake Off competition via Facebook and Instagram for consumers who have been baking with their ingredients. Categories include: Most Creative, Best Looking, Most Colourful and the Biggest.