From consumer psychology to the backstory behind seasonal favourites, three experts show how tapping into past and future trends can draw interest and boost a bakery's business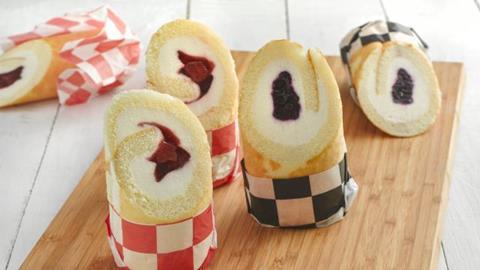 Bakery is steeped in history – what we eat and why we eat it during certain occasions and celebrations. Bakery goods have become part of our national identity too, with baguettes in France, Victoria Sponge in England and scones in Scotland, for example. While bakery trends come and go, bakers who tap into both the history and future of baked goods, as well as the science and psychology about how we enjoy them, will unlock a whole range of business opportunities.
Current thinking
Respected 'food futurologist' Dr Morgaine Gaye has identified several future key trends, including speciality diets, space, indulgence and texture, that are helping to shape some of the most innovative ideas in the bakery category.
Trends she has highlighted, such as 'Nostalgia' and 'Back to The Land', have been fuelled in part by the popularity of TV baking programmes, including The Great British Bake Off. As well as a return to many of the traditional cakes our families have loved for generations, new traditions are being created, as young bakers add their own dimension to time-served bakes. And, as recipes are mixed and matched, a hybrid of classic desserts and cakes, such as Trifle Bakewells or Eton Mess Cake, are appearing.
'Better for you' and 'better for the environment' have never been higher on consumers' checklists either, says Dr Gaye. Beneficial ingredients that help promote good health are most important to emerging-market consumers, who are willing to pay a premium for health benefits in a product. This is evidenced by the growth of simpler and 'cleaner' labels as indicators of a more natural product, while sustainable sourcing is also high on the consumer agenda, with manufacturers increasingly seeking to use ingredients such as UTZ-certified cocoa or responsibly sourced palm oil, for example.
At the other end of the scale, 'indulgence' is still a must-have for many consumers, she explains. While healthy categories are growing fast, there is room for occasional treats. Today's consumers are time-pressed and work hard, so rewarding themselves with some 'me time' – whether in the office, on the go or at home – is now more popular than ever. Experience and indulgence are important means of escapism for consumers, particularly in today's uncertain political climate. They are increasingly looking for bakery items that deliver an experience and provide an element of indulgence, with sweet treats a growing category in bakery.
Using the senses
Eating 'feel' – how food smells, looks and feels in the mouth and in the hand is essential as consumers choose bakery items that deliver on every level. These were some of the observations from Professor Charles Spence, professor of experimental psychology at Oxford University, in his insights supplied exclusively to Dawn Foods. Just as food needs to look and taste great, how it feels in the hand adds to our sensory response to it. The feel of packaging(see picture left) can also exert a similar influence over the consumer's in-mouth experience.
Professor Spence considered how the sound, smell, taste and feel of food works to increase our likes and dislikes, how the time of day can affect our need for a sweet 'fix', through to the impact of temperature and how the purchasing environment can affect our choices and our relationship with food.
These fascinating insights into how we react to food and the other influences, many of which we may never even have thought about, have been invaluable for bakers to not only see what kind of sweet treats they should be selling, but how to display, serve and package them.
History in the baking
Meanwhile, broadcaster, chef and food historian Gerard Baker, also now working with Dawn, offers bakers insights into the history and traditions behind the UK's favourite bakes at national celebrations such as Easter, Halloween, Valentine's Day and Christmas. Why do we choose to celebrate with baked products, why are certain ingredients and flavours popular at different times of the year and how can bakers and caterers make the most of these celebrations to expand their product ranges and drive sales?
His fascinating revelations on the traditions of Valentine's Day, and the type of sweet baked products that have been enjoyed at this celebration, indicate that not only do these foods have a traditional connection to love or remembrance, but are also associated with the advent of spring, symbolically being the time that plants start to grow.
The tradition of sending romantic gifts on Valentine's Day, for example, comes from the early English writer Geoffrey Chaucer, who developed the principle of romantic love, courtly love, courting and exchanging gifts. Confectionery during that era was a high-value item, with sweets and comfits especially prized, as sugar was so rare and expensive.
However, from a historic perspective, there are also many other flavours and ingredients associated with Valentine's Day, championed in particular by the Victorians, which can still be used in bakes today:
Basil:This herb was traditionally worn by women, dried as a nosegay, to encourage fertility. As such, it would also have been associated with new beginnings, the spring and a time of new energy in relationships. Basil, of course, is a soft herb that was only possible to grow in the warmest of months – indicating love. Its culinary use should not be limited to savoury foods, as its floral nature is excellent when used in conjunction with creams and custards, especially with strawberries and white chocolate.
Rosemary: One of the pagan herbs of love and remembrance, rosemary is associated with longevity and love eternal. It flowers in the early spring and is one of the first herbs to do so, hence its association with Valentine's Day.
Strawberries:These heart-shaped fruits are the symbol of Venus, the Roman goddess of love, and are perhaps the fruit most used as a sign of indulgence and romance.
To gain more invaluable historical information from Gerard Baker, as well as a range of inspiring recipes, sign up to Dawn Foods' 'Bakes for All Seasons' e-newsletter by visiting dawnfoods.com.