With consumers increasingly looking for healthier alternatives to their favourite treats and with HFSS legislation requiring manufacturers to reformulate many brands to maintain a competitive edge, bakeries will face a dual challenge next year, says specialist bakery fats manufacturer Cardowan, which offers a cost-effective alternative to help them achieve their goal.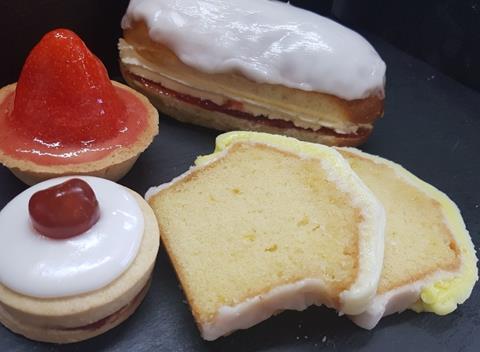 UK bakers are set to face a dual challenge in 2022: growing demand from consumers for healthier alternatives to their favourite bakery treats, combined with an unwillingness to compromise on taste and the added pressure of reformulation in accordance with high-fat, salt and sugar (HFSS) legislation, set to take effect in October next year.
The HFSS legislation, an extension of Theresa May's 2019 consultation to combat childhood obesity, has been accelerated by the current administration1, which has stepped up its ongoing battle with consumer obesity, following the Covid-19 pandemic and associated health concerns. According to the NHS2, one in three children leave primary school overweight, some of them already dealing with obesity. The same study details that around two-thirds (63%) of adults are above a healthy weight, with half of this number also living with obesity.
So, the current UK Government's HFSS measures will include restrictions on promotional activity/advertising on television and the internet, as well as limiting promotion of HFSS products in-store. As a result, production of healthier products will become more relevant than ever, as many brand recipes will need to be reformulated if these products are to comply with the HFSS ruling and enjoy some of their current promotional freedoms.
Meanwhile, market research into consumer demands reveals they are increasingly calling for healthier and plant-based alternatives to their favourite indulgent treats and they are now looking to manufacturers to produce these with a reduced or free-from offering. Indeed, the desire to make lifestyle changes to achieve a more balanced relationship between diet and health is a contributing factor in the popularity of plant-based produce. Yet striking a balance with permissible indulgence when seeking out treats is also important to consumers.
Recent NPD launches from the plant-based sector have showcased the level of innovation and technology available to create tasty vegetarian and vegan products that are at least on a par with non-plant-based items – so much so that consumers are no longer willing to compromise on taste, texture or price when looking for healthier or plant-based alternatives.
In addition, with the day-to-day costs of production rising for most manufacturers, creating NPD that offers the potential to make savings while generating bakery goods of a high standard is a bonus.
However, the biggest challenge for many businesses looking for products to be HFSS-compliant will be the reformulation of the recipes themselves and the time frame to achieve this in. To succeed, companies and bakers need to take into consideration the technical challenges involved with changing a key ingredient such as fat within a recipe and the effects that it can have on dough handling, stability, texture, mouthfeel and shelf life.
The opportunity
All of these factors were instrumental for bakery fats manufacturer Cardowan, which tackled the challenges in its test bakery, logging data and recording recipe reformulation changes as it developed its 'Reduced Range' NPD. The range includes the launch of two new products, 65% Reduced Fat Cake and 65% Reduced Fat Pastry, and the team at Cardowan have worked hard with their development chef to ensure they have the capabilities to meet the demands of a diverse industry.
So what can Cardowan's NPD offer?
● 65% Reduced Fat Cake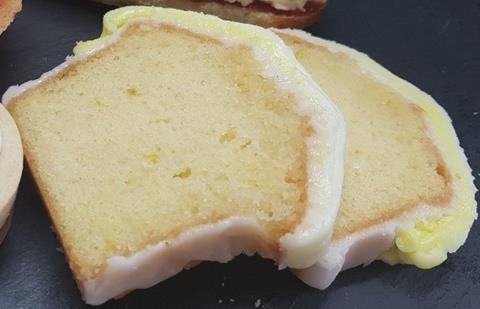 This product has been tested successfully in the production of cakes, brownies, scones, muffins, biscuits, tart shells and frosting.
From a bakery perspective the cake has good aeration in the creaming stage of production, and the finished product has soft crumb, desirable visible texture, volume, and mouthfeel, with no increased spread when baking the biscuits.
The product created a pliable sweet and neutral pastry dough, that baked to a satisfactory level and was even in colour and crisp while maintaining functionality and flavour.
● 65% Reduced Fat Pastry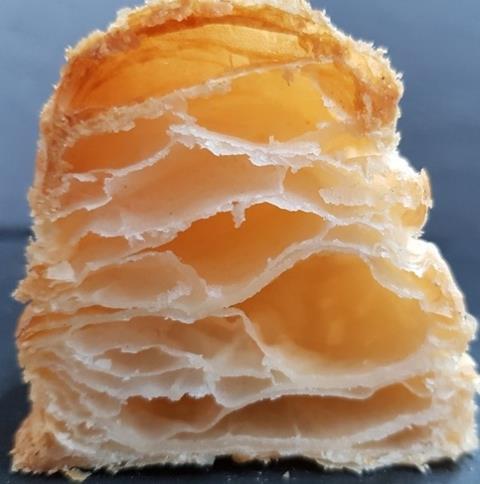 The 65% Reduced Fat Pastry was used in the production of classic laminated puff pastry where it was used to create an 81-leaf block of pastry. This was baked as lids and as various savoury and sweet products.
In the finished baked products, there is a strong rise with good colouration, pleasant mouthfeel, aroma and taste.
The layers of crisped dough are visible when baked and the classic, open honeycomb structure can be seen when slicing baked goods.
Reformulation of recipes must be taken into consideration when using the product and the test bakery team at Cardowan have gathered a large volume of data on the reformulation of puff pastry recipes.
Reformulation of base recipes will be part of any business striving to be compliant with HFSS legislation and changing consumer trends. Cardowan can help bakeries achieve cost-effective reduced-fat products that meet these dual goals.

About Cardowan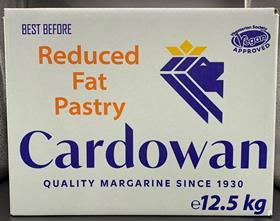 Cardowan is a family run and operated margarine manufacturer in Glasgow, producing cake and pastry margarine, shortenings, and bread fat emulsions since 1930. The company is a vegan-certified site, with BRC, Kosher and RSPO accreditations and more than 155 products in its portfolio to suit all bakery applications. The manufacturer is keen to share with the industry its findings that, by moving from a standard cake or pastry margarine, substantial savings can be made. Visit Cardowan's website
here
for information on its existing range, reduced-fat range and other NPD offerings.
Sources
1 https://digital.nhs.uk/data-and-information/publications/statistical/statistics-on-obesity-physical-activity-and-diet
2 NHS, Statistics on Obesity, Physical Activity and Diet (England 2020)