UK consumers need to increase the fibre in their diets according to Government guidelines. So, how can bakers boost their sales with tasty fibre-rich products that can boast nutrition claims and attract increasingly health-conscious consumers?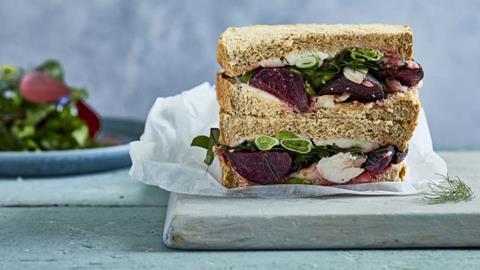 Fibre and gut-health have increasingly become a focus in the media, with experts emphasising that consumers are not getting enough fibre in their diets. Government guidelines state that consumers' dietary fibre intake should increase to 30g a day, as part of a healthy balanced diet. Yet, according to the NHS, most adults are only eating an average of about 18g of fibre a day. While children don't require as much fibre as adults, they are still deficient on average (source: nhs.uk).
Independent research commissioned by flour miller Marriage's has shown that getting more fibre is one of the top 5 diet concerns and over 75%¹ of people said eating healthily was important to them. As the age of a consumer increases, so does their interest in health, with 43% of those questioned stating they were concerned they were not currently getting enough fibre.
Lack of fibre is a national issue. Dietary fibre is important for digestive heath and the NHS states that eating plenty of fibre is associated with a lower risk of heart disease, stroke, type 2 diabetes and bowel cancer (source: nhs.uk). Fibre can be found in foods like fruit and vegetables, nuts and seeds, beans and pulses, and cereals like wheat. An easy way for consumers to increase fibre is by eating wholemeal or multi-grain breads, or higher-fibre white bread.
Fibre opportunity
As interest in gut-health grows, there is an opportunity for bakeries, manufacturers and foodservice operators to tap into this, with increased fibre options. The wheat grain consists of three parts: the endosperm, the bran and the germ. Wholegrains retain all three parts of the grain, with most of the healthy goodness in grains found in the bran layer and germ of the seed. So wholegrains contain up to 75% more nutrients than refined cereals (source: British Dietician Association Food Fact sheet).
To increase fibre in longer fermentation loaves, bakers can blend wholemeal flour with white flour and other speciality flours like rye and spelt. This gives added flavour, but also increases fibre content. For further nutritional benefits and a more interesting visual appeal, linseed, sunflower and poppy seeds can be added to the mix, therefore responding to the seeded bread trend.
"For bread-making, working with a good quality wholemeal flour with strong gluten strength is key," says Kelvin Ellam, technical baker at Marriage's Millers. "Once the gluten is developed, this will aid when adding lower-protein flours such as ryes, spelt and even barley which also have high-fibre content."
Incorporating fruit, such as bananas, apples and berries (fresh or frozen) into cakes, including rustic farmhouse and pound loaves, not only adds interest but can provide extra vitamins, fibre and flavour. They can also add natural sweetness, which can result in the need for less refined sugar. Dried fruits are also a good addition – dates are high in fibre and prunes are a source of iron.
Seasonal vegetables can also be used to great effect in bread and cake-making. Carrot, beetroot, courgette, and parsnips are all naturally sweet and delicious additions to bakes. Beetroot has a lovely earthy flavour and works well paired with chocolate in brownies and muffins. Courgette is great in muffins, and sweet potatoes and parsnip can be used instead of carrots in cake recipes.
Morning goods
As consumers seek out healthier food-to-go options, wholemeal flour can be used in morning goods as part of the breakfast menu, such as wholegrain croissants or muffins, with added ingredients like seeds or berries. Increasing wholegrain content gives the opportunity, providing it meets legal requirements, for a nutrition claim on a product, with stamps on-pack or point-of-sale to highlight 'source of fibre' – a key selling point for consumers.
"One of the challenges for bakers is finding a wholemeal flour that is milled finely enough to handle consistently for creating products such as savoury and sweet pastries, biscuits, cookies, sponges or most confectionery work, due to the broad bran particles found in most wholemeal flours," adds Ellam.
Tasty options
Taste is also an important factor in healthy eating and while wholemeal has always been seen as a healthy option, not all consumers like its distinctive texture and taste. Marriage's has produced Golden Wholegrain flour – a high-fibre alternative to satisfy the growing demand for tasty products with health benefits. Marriage's Golden Wholegrain flour is a unique-style, award-winning, 100% wholemeal flour, made from a specialist wheat variety already popular in the US. Produced in Plain and Bread varieties it's lighter in colour compared to regular wholemeal, which makes it more visually appealing.
The Bread flour can be used to make nutritious and tasty bread, hot cross buns, croissants and pasta, and its milder taste means it doesn't overwhelm in sandwich fillings or pizza bases. The Plain flour is milled more finely and gives greater workability, making it perfect for pastry. It can also be used in cakes, cookies and muffins and can be used as a coating. With its comparable levels of fibre and natural goodness to regular wholemeal it's well suited to targeting the health-conscious consumer, as well as the family market and education sector – allowing manufacturers to make health claims and boost their sales.
Marriage's Golden Wholegrain flour is available in 1kg bags, 16kg sacks and in bulk. For more information about Marriage's, see flour.co.uk or for enquiries email goldenwholegrain@marriagesmillers.co.uk.
¹ Independent research conducted by Marriage's Millers in 2019 – 1,031 participants