Brits are a nation of chocoholics, with quality products increasingly in demand. Natalie Drake, Category Manager, Synergy Flavours, illustrates how bakers can capitalise on this trend and keep consumers coming back for more.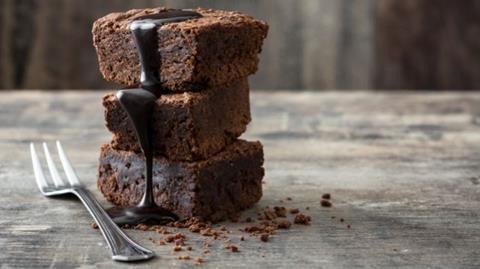 With the average Brit found to have consumed 8.4 kg of chocolate in 20171, it's undeniable that we are a nation of chocolate lovers. Chocolate flavoured baked goods appeal to those looking for a sweet treat and product innovation in this area continues apace.
More than 7,000 chocolate bakery products were launched in both 2017 and 2018. Chocolate (plain, milk, white and dark) and cocoa account for the top five flavours in bakery launches for the past five years [Mintel GNPD]. Consumers are looking for indulgence, authenticity of flavour and variety, as well as healthier options. With all of these demands, it is key for bakery manufacturers to work with flavour specialists who can help deliver unique chocolate-flavoured products that entice consumers.
History of chocolate
Throughout history, chocolate has been a highly valued product and is one of the world's favourite flavours. From the first discovery of the cacao tree in the tropical rainforests of Central America, to Christopher Columbus discovering cocoa beans and introducing them to Europe in 1502, chocolate has become highly sought after. It was enjoyed as a beverage until the invention of new technology in the 1700s, which changed the way chocolate was made. It allowed early pioneers to combine cocoa powder, cocoa butter and sugar to create the early modern-era chocolate, which is still being adapted and enjoyed today.
Despite new pressures for reduced-sugar products affecting the market in recent years, Mintel has forecast UK sales of chocolate to reach £5.5 billion by 2022, an increase on 2017's sales of £5.1 billion [Mintel Reports].
Chocolate connoisseurs
Chocolate is an extremely complex product, with over 600 flavour compounds compared to the 400 compounds in red wine. Dark chocolate has roasted/bitter/nutty tones, whereas milk chocolate flavours are more caramelic/vanillic/creamy.
Figure 1: Sensory evaluation maps are used to chart each of the profiles in a variety of product applications. They show the sweeter, caramelic notes in milk and white chocolate, versus the stronger taste of cocoa flavours/aromas in dark chocolate and pure cocoa.
There are also different flavour preferences to consider – different age groups and nationalities have varying flavour preferences. A study has found that older people tend to prefer stronger, more distinctive flavours, such as high cocoa-content chocolate, whereas more sweet and caramelic milk and white chocolate flavours were preferred by the younger participants2. Manufacturers are recognising this and tailoring their products as a result. For example, Cadbury recently launched its Darkmilk bar, which has over 40% cocoa, to appeal to older, more 'sophisticated' palates.
A melting pot of choice
With a rapidly expanding range of products on offer in the bakery category, consumers have more choice than ever before. One of the most popular market trends helping to shape innovation is 'premiumisation'. Adding chocolate can enhance the indulgence and appeal of baked goods. For example, seasonal products such as hot cross buns have now evolved away from the traditional flavours and most retailers now stock chocolate-flavoured hot cross buns at Easter, which are considered more premium/luxury products.
Provenance is also important, particularly with chocolate, as the origin of cocoa beans can influence the flavour of the finished product3. Seventy per cent of the world's cocoa beans come from Africa, but South American countries such as Peru, Bolivia and Ecuador all produce cocoa beans, and different harvesting and processing methods and varieties provide a diverse range of cocoa flavours. This is filtering through to the products we see in supermarkets. In 2017, Waitrose launched Waitrose 14, a range of 'single-origin' bars. All of the beans in each bar in the range come from one country, and the beans come from traceable locations and are marketed by Fairtrade cooperatives. Hotel Chocolat also has a range called Rare & Vintage, with 20 bars featuring beans from six countries: Colombia, Ecuador, Ghana, Honduras, Vietnam and its Caribbean base, St Lucia. This trend is likely to filter through to chocolate-flavoured products, including bakery.
Keeping it sweet
The nationwide movement, led by government guidance, to reduce levels of sugar and fat in our food and drink means that manufacturers are under pressure to reformulate products to meet these requirements. It's easier said than done in bakery products as sugar and fat are key ingredients that not only contribute sweet taste and influence flavour perception, but have several important functional properties for baked goods, including leavening, caramelisation and browning.
However, chocolate flavourings can be used to help to compensate the reduction of these key ingredients in products. In fact, chocolate is the top flavour for bakery products carrying a reduced-sugar/sugar-free claim, and launches of these products have more than tripled since 2016 [Mintel GNPD]. As well as an increased number of retailers offering these kind of products in their bakery lines, there are also entire brands, such as Skinny Bakery, dedicated to producing products with significantly less sugar/fat in them in order to market them as lower-calorie. With 59% of UK consumers citing taste to be more important than the healthiness of a dessert, it's important that 'healthier brands' and those answering the call to reduce sugar make a full impact with their flavour [Mintel Reports]. Using the Synergy flavour toolbox, we have been able to create biscuits and cakes with 20% less sugar, 30% less fat and 15% fewer calories, while maintaining flavour and mouthfeel.
Finding new flavours
Another emerging area is the development of specific chocolate flavours to meet consumer demand for something new or different. For example, the use of ruby chocolate in bakery products isn't yet widespread, but it has a lot of potential in terms of its visual impact and the enhanced flavour it can offer. It is made using a unique type of cocoa bean with a particular process to give it the distinctive pink colour and deliver a taste that is described as 'sweet yet sour'. This is because it has very little of the cocoa flavour traditionally associated with other types of chocolate.
Figure 2: A sensory evaluation map for ruby chocolate shows the unusual juxtaposition of sweet and sour flavours with a creamy mouthfeel and fruity notes.
Achieving authenticity
As a result of the ubiquity of chocolate, consumers have become accustomed to their favourite chocolate profiles, meaning that high-impact, authentic flavours are essential for chocolate-flavoured baked goods. Synergy Flavours has a range of chocolate flavours that are all natural, and are based on a number of market-leading chocolate products and chocolate types, including: dark, milk, white and ruby chocolate, and cocoa. They can be used in a number of applications, including chocolate cookies, biscuits, and muffins, as well as buttercream and fondant icing.
With extensive technical knowledge, application know-how and market insight, working with a flavour expert like Synergy Flavours is essential to create chocolate baked products with real flavour impact that consumers will love.
For more information, visit uk.synergytaste.com.
References
1 Chocolate production and consumption on the rise across the globe, says new data, (March 2018) Independent https://www.independent.co.uk/life-style/food-and-drink/chocolate-production-easter-mintel-gnpd-europe-consumption-vegan-a8276236.html
2 Don't ignore different flavour preferences of older consumers: study (January 2016) Food Navigator https://www.foodnavigator.com/Article/2016/01/21/Don-t-ignore-different-flavour-preferences-of-older-consumers-Study
3 Introducing the different fine cacao origins around the world (July 2018) Perfect Daily Grind https://www.perfectdailygrind.com/2018/07/fine-cacao-chocolate-origins-around-the-world/
4 National Chocolate Week: the rise of 'single-origin' bars (October 2016) The Telegraph https://www.telegraph.co.uk/food-and-drink/features/national-chocolate-week-the-rise-of-single-origin-bars/