Welsh company Brynmor looks at how offering functionality beyond the free-from claim could fill a clear gap in the gluten-free snacking market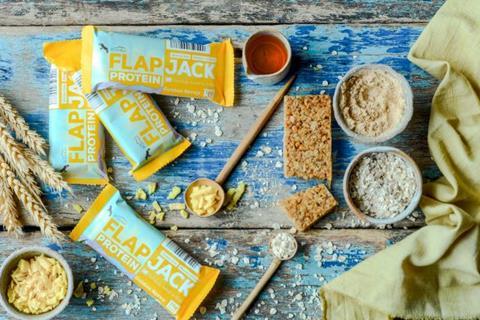 Mainstream confectionery is giving space to more functional snacks as retailers look at strategic ranging options for healthier snacking products.
Data from Nielsen suggests that 45% of UK shoppers make a real point of buying healthy options when doing their grocery shop.1 Specifically, many cakes/sweet baked goods users have a preference for short ingredients lists, which reflects wider consumer trends to prioritise naturalness in foods and avoid those products seen as overly processed.
Shoppers have so much more choice than ever before and, thanks to both the growing social media influence on a healthier lifestyle and changing preferences when it comes to ingredients such as protein and sugar, there is a growing demand for more natural snacking options with clear health benefits – but they also need to deliver on taste.
Yet, despite the ongoing buzz around health, shoppers still spend considerable amounts on fatty, sugary or salty treats to consume on their own or as part of a sharing occasion, and they consciously try to balance this within a healthy diet.
When it comes to the free-from category, there is an increasing demand for gluten-free snacks, with 31% of consumers agreeing that there are not enough free-from confectionery products available. In the cakes, pastries and baked goods market, in particular, just 10% of new product launches in 2017 carried a gluten-free sweet claim.3
However, simply claiming 'free from' on products is not enough to win consumers over, especially the younger generation who are the core consumer group. Mintel suggests 40% of under-35-year-olds agree that free-from foods that have added nutritional benefits are more appealing than those that don't. Moreover, 40% of consumers are concerned that free-from diets put them at risk of missing out on certain nutrients, which is particularly important for those who follow this type of diet as part of a healthy lifestyle.3
So, a clear opportunity exists for free-from brands to highlight not only their free-from credentials, but also the additional positive nutrition attributes their products offer, such as fibre and protein. This can help encourage and reassure consumers that they are not missing out by following a free-from diet.
While consumers actively seek out indulgent treats, they also want the addition of healthier ingredients, such as fibre and protein, to increase the permissibility of those products.3 Fibre is high on the current consumer agenda, yet only 15% of new gluten-free launches in the market in 2017 carried a fibre claim.3
Meanwhile, consumers now associate protein with many different aspects of health and wellness, beyond body-building and sports nutrition. Yet, just 9% of gluten-free launches in 2017 carried a protein claim.2 So more protein offerings in the gluten-free bakery category would ensure consumers' needs are catered to.
Free-from products that actively spotlight more nutritional credentials on-pack and in their marketing communications, both on and offline, will be the brands that should find the most success, particularly with the core younger consumer group.
One product that can fulfil all these criteria is Brynmor flapjacks. Baked in Wales, Brynmor flapjacks have a proud heritage and bring a premium-quality gluten-free flapjack to the fixture. They use the finest jumbo oats to deliver a hearty helping of fibre and slow-release energy, combined with delicious flavours, for a perfect sweet treat that also ticks the health box.
The Brynmor protein range, which consists of divine Salted Caramel and traditional Golden Syrup flavours, also offers a guaranteed 10g of protein per 52g bar – and this is made as prominent on the packaging as the gluten-free message.
Expert bakers ensure each flapjack is produced as nature intended, with no added nasties and with both vegetarian and vegan options to choose from.
Today's shoppers are extremely well informed when it comes to deciding which products to buy and are knowledgeable about the manufacturers that make them. Brands that understand their target audience – and embrace their eating occasion – can deliver a proposition that ensures both treat and functional snacking products are available and that consumers' multiple needs are satisfied.

http://www.brynmorfoods.com/
Nielsen – The Power of Snacking, December 2018
Mintel – Cakes, cake bars and sweet baked goods, March 2018
Mintel – Free-from Foods – UK, December 2018