Finding and using the right cheese for your savoury bakery product is not as straightforward as it might seem. Here, Synergy bakery category manager Natalie Drake outlines the technical challenges involved with this universally popular ingredient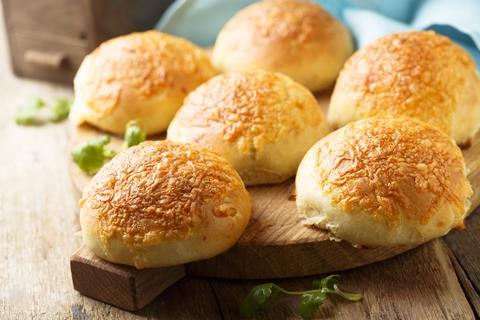 Whether it's being sliced up to enjoy with a post-dinner cracker, or melted on toast, there's no doubt that the UK is a nation of cheese-lovers. Almost 500 European bakery product launches in 2019 featured cheese as an ingredient, making it the most popular flavour variant for savoury bakery products outside plain and seeded.1 As we move further into times of uncertainty, it's clear that consumers' appetites for comforting and familiar flavours will grow further and classic cheese fits that bill perfectly.
While cheese continues to be a popular choice for bakers, it presents several technical challenges when it comes to flavour delivery, process handling and product consistency. To overcome these challenges, it is important to understand the sensory, biochemical and microbiological properties of cheese across various product recipes.
Why cheese?
In many markets across the globe, cheese is a well-established household staple with a wide variety of uses in cooking, baking and sandwich-making. This staple food has the potential to grow even further as more consumers cut down on their meat intake and look for alternative sources of protein. Cheese is already a well-established and accepted choice for snacking, with 50% of consumers in Europe agreeing that cheese is a good snacking option.1 This undeniable popularity would explain why cheese is the go-to flavour profile for a lot of breads, crackers and other savoury bakery snacking items. The graph below shows the top flavours in new product launches of savoury bakery products in the UK over the past five years and highlights that cheese continues to be a core flavour profile for UK bakery.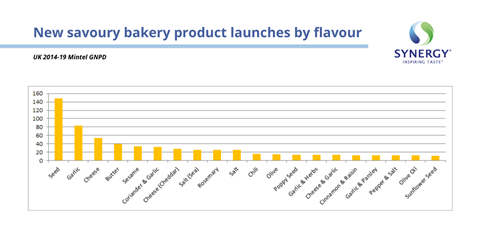 A cheeseboard of choice
With so many varieties of cheese now available, there are plenty of options to suit a variety of tastes and product applications. This flavour map from Technomic (below) gives a view of the types of cheese appearing on restaurant menus in 2020. Introduction and growth flavours come from the innovators in smaller independent restaurants, showing they are ahead of the curve in terms of trends. Mainstream and mature flavours are recognised and accepted by the general population and the flavours are picked up by larger chains and high street restaurants as interest grows.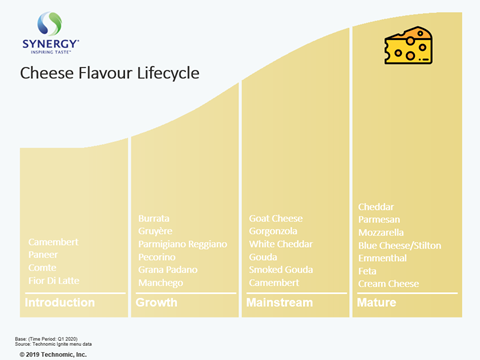 Synergy conducted some consumer research [in partnership with Vypr] to determine which is the nation's favourite type of cheese. It was no surprise that cheddar came out on top for consumers, but it was also notable that consumers were interested in buying a wide variety of cheeses, with mozzarella, parmesan and camembert all scoring highly. It's important also to consider the target demographic for the product, since younger consumers tend to prefer creamier and milder cheese such as mascarpone and Emmenthal, while older consumers are more accustomed to stronger and full-flavoured cheeses such as stilton and goat's cheese.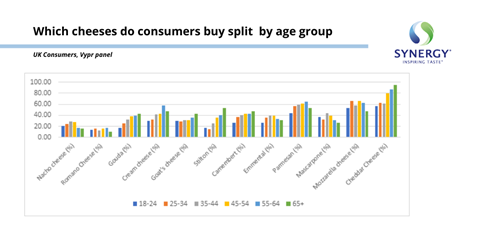 Mapping the flavour profile of cheese
The latest research has concluded that several different classes of aroma compound are all important to the overall aroma and flavour profile of cheese. While both stilton and Emmenthal would both be described simply as 'cheesy' in aroma, closer consideration of each aroma reveals a very different balance in the profiles. While stilton has a strong blue cheese aroma, Emmenthal is typically more nutty and sweet. Different types of aroma compounds are responsible for each of these notes, and it's the balance of their concentrations within both stilton and Emmenthal which determine the holistic cheese aroma in each case.
For example, short chain fatty acids are found widely in cheese and are responsible for characteristic cheesy aromas. They form during lipolysis, a process of fat breakdown which occurs during cheesemaking and ripening. In blue cheeses, the presence of blue cheese moulds act on the fatty acids produced during lipolysis to produce further products of fat breakdown, giving it the classic blue flavour.
In order to truly understand the similarities and differences between cheese varieties, Synergy takes a detailed analytical approach. Using the latest flavour analysis techniques allows scientists at Synergy to get to the heart of what gives certain cheeses their characteristic flavour profile. The process starts by capturing flavour compounds from the cheese-matrix itself and using GC-Olfactometry technology to identify key cheese aroma compounds present. Research scientists and the flavour creation team smell the aroma compounds that are emitted from the cheese sample via the GC-MS equipment. The odour quality and intensity of the key cheese compounds are recorded and combined with sensory evaluation which helps to create a fingerprint map – or cheeseprint if you will – of the full cheese flavour profile.
This information generated in the analytical reporting is then used by flavourists to create authentic cheese flavour profiles that are typical of cheeses found on the market. Rebekah Pollard, flavour research analyst at Synergy, comments: "Analytical data highlighted that a gouda cheese profile is typically creamy and buttery with a mild and mellow character. On the other hand, mature cheddar showed a higher presence of acidic notes with some undertones of fruity, creamy and earthy notes typical of mature cheeses. Although they contain a lot of similar components, the concentrations and overall balance of these different aromas relate closely back to the sensory characteristics of the cheese."
GC-O and sensory data allow Synergy to map out cheddar and gouda flavour profiles, so that we can see the similarities and differences between the two.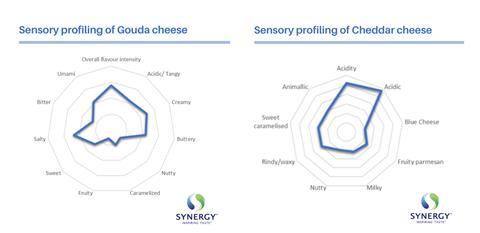 Baking with cheese: the technical challenge
While cheese is a well-established flavour in the bakery and snacking space, the use of cheese as an ingredient in these products isn't always straightforward. Using natural block cheese in baked goods can cause some 'oiling off' during the baking process – this is where the liquid fat separates out from the main body of the cheese matrix. This presents bakers with the challenges of batch variability, flavour loss and, sometimes, a loss in visual appeal of the products. In order to create an intense cheese taste, a large amount of grated cheese needs to be added to the recipe, which presents some additional factors around costing and nutritional labelling.
Synergy recognises the challenges that bakers face when adding cheese to their products and has conducted a number of trials to establish the best way to create an authentic cheese flavour profile while managing recipe costs, nutritional targets and maintaining product consistency.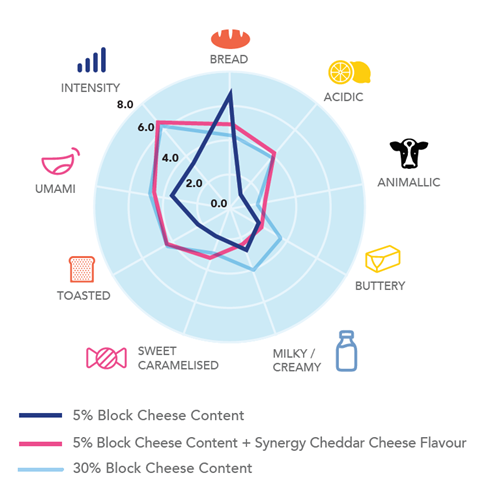 Reducing the amount of block cheese used within a baked good can have a significant impact on the mature umami cheese notes, the creamy mouthfeel and overall flavour intensity. In order to overcome these challenges, the sensory team at Synergy, in partnership with flavourists and the cheese R&D team, created a mapped comparison of three different cheese bread recipes. The first product contained 30% grated cheese content, the second 5% cheese and the third 5% cheese with the addition of a Synergy cheese flavour solution. The sensory analysis highlighted that using a Synergy cheese flavour in combination with 5% cheese content could create a comparable flavour profile to that of a bread with 30% cheese content.
Unlike typical cheese flavours that simply add a singular top note, Synergy's cheese solutions are richly layered with fermented dairy ingredients and encapsulated using proprietary dairy technologies for optimal performance. This approach can help bakery manufacturers to overcome a range of technical issues that are commonplace when working with cheese as an ingredient.
The future of cheese flavours
As the UK's love affair with cheese continues, solutions such as Synergy's natural cheese flavours and concentrates will increasingly provide manufacturers with the answer to a range of technical challenges across a wide variety of applications. Understanding how cheese performs in end-products is important to enable the development of flavours that create an authentic cheese taste and a healthier profile that consumers will love.
To find out more about Synergy's range of authentic cheese flavours please click here.
Source
1 UK 2014-2019 Mintel GNPD