Halloween is the first significant event in 2020 that bakers will be able to get their teeth into post-'lockdown' and in the run-up to Christmas. Dawn Foods looks at the trends and opportunities it brings for bakers this year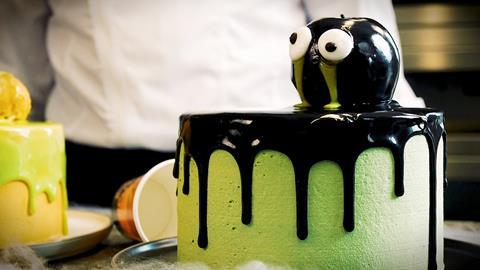 Halloween has continued to grow in popularity with UK consumers. Estimated Halloween spending rose steadily between 2013 and 2016, from £230m to £310m, with spend over the period totalling £474m in 20191. It is a celebration that appeals to children and adults alike, giving bakers the opportunity to get creative with their bakes and see sales uplift.
So why is Halloween so popular?
Halloween has its roots in Celtic traditions, and today it is widely celebrated across America, Canada, Mexico and is fast becoming a mainstay of the UK events calendar too. It is now one of the most popular seasonal events with Brits – and not just among children but adults too?
If you've ever visited New York on 31 October, the vision of grown men and women walking the streets disguised as ghouls and ghosts feels very sinister. According to TV psychologist Dr Becky Spelman in her article The Psychology of Why Adults Enjoy Halloween2, part of the appeal is that we get to be someone else for a day, we enjoy being scared and, most importantly for bakers, it's a tradition that takes us back to our childhood.
"Much like Christmas, Halloween is a holiday that will bring back fond memories of easier days, when trick or treating with our friends and parents was the call of order for this time of year. We associate these types of occasions with being young and carefree, and that feeling doesn't fade once the celebration rolls round again," Dr Spelman explains.
The 'Kidult' – or the kid at heart - is important for many of us and that may be partly why in today's difficult times, occasions such as Halloween will be popular, giving us the opportunity to easily become another character far removed from our own realities even if it's just for a day.
The bakery opportunity
Vaishnavi Vora, a second-year bakery and patisserie student at University College Birmingham and one of Dawn Foods' student ambassadors, says that adult themes are helping to the shape the flavours and formats of Halloween bakery products this year: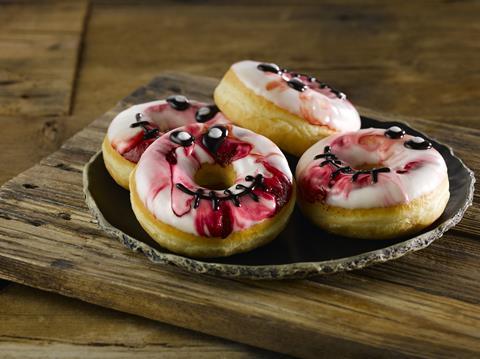 "We usually associate autumnal colours and flavours such as pumpkin with Halloween. Recent product innovation includes black, and oranges with purples, hot pinks and neons now add a fun twist, especially to 'gothic-style' bakery items, appealing to the adult consumer. The spookiness of a product can be taken a notch higher by using gruesome packaging to add pick-me-up-appeal to products.
"There are some contemporary takes on Halloween favourites, too, with modern interpretations of classic flavours and textures. 'Blood orange' with its spooky connotations is an on-trend adult flavour for this year, while classic toffee apple can be updated by altering the format; try adding caramelised white chocolate filling in the apple and coating it with popping candy for a fun element.
"Halloween provides some great opportunities for innovation, ranging from pumpkin bread to charcoal scones or even a pumpkin lava cake that is baked inside a hollow pumpkin.
"We might see the celebrations of this spook-fest slightly different amidst the current pandemic situation, with retailers and foodservice operators giving a creative Halloween twist to PPE and masks. The pandemic has also seen increased demand for individual grab-and-go products such as cake bites, parfaits, and cake slices. Eyeball cake pop, anyone?!!"
Easy Halloween products
Following all the uncertainty generated by the global Covid-19 pandemic this year, bakers will want to go to town with Halloween 2020, but budgets may be tighter than usual and fewer staff available, explains Jacqui Passmore, marketing manager UK and Ireland at Dawn Foods.
"Halloween is the third-biggest retail event after Christmas, so we've introduced thaw-and-serve options as well as point-of-sale toolkits to help bakers make Halloween as easy – and profitable – as possible," she says.
Dawn's new finished frozen Halloween products can help time-pressed operators with limited staff resources who still want to maximise Halloween opportunities. These thaw-and-serve Halloween products include a duo-filled Blackcurrant and Orange Donut, a Blood Orange, White Chocolate and Cranberry American-style Cookie and a Blood Orange and Chocolate Muffin. "They have great on-shelf impact to drive sales and each features packaging to ensure minimal handling is achieved," adds Passmore. They are joined by the new Spicy Pumpkin Filling for those that like to be creative with their offering.
This year, Dawn is also offering a free Halloween themed toolkit with any five of the selected products purchased from Dawn's 12.5kg bags of Plain or Chocolate Crème Cake Base, Extra Moist Muffin Base (Plain or Chocolate) or 6kg pails of Dawn Vanilla, Chocolate or Orange Frostings. Each toolkit contains Dobla chocolate bat decorations and point-of-sale material, enabling bakers to easily create a ghoulish range of Halloween-themed sweet bakes and decorate in-store.
To find out more about Dawn Foods' Halloween products, see the video below or click here.
Sources
1 Finder.com https://www.finder.com/uk/halloween-statistics-2019
2 Dr Becky Spelman https://theprivatetherapyclinic.co.uk/why-adults-enjoy-halloween