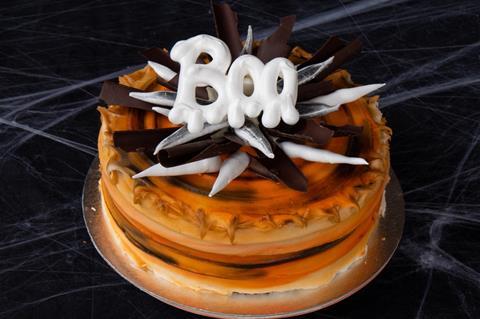 Bakers and suppliers are looking to ramp up the scare-factor with an array of haunting bakes for Halloween.
Pleesecakes, Country Choice and Konditor are among those to roll out a breath of fresh scare with undead biscuits, devilish doughnuts and cursed cakes.
Hummingbird Bakery, McVitie's and Birds Bakery are among those to have already revealed their fright night treats for 2020.
Given the social distancing measures in place, many are gearing up for a socially distanced Halloween while still capitalising on the sales opportunity.
Here's our pick of the latest Halloween bakery NPD: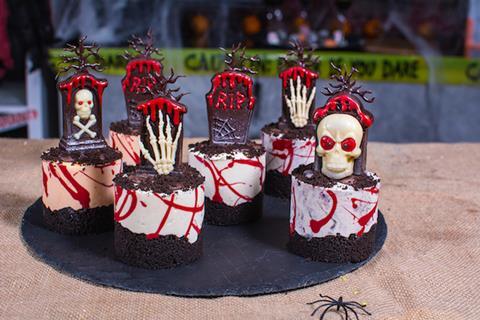 Pleesecakes
Why not get crafty this Halloween? Pleesecakes has rolled out a limited edition No Tricks, All Treats Build Your Own at Home (BYOAH) kit.
Consumers can whip up a treat with a ready-made Witches Ashes Oreo biscuit base topped with a frozen chocolate & raspberry Dirt and Blood cheesecake, an Ectoplasm Slime ganache created with white chocolate and green food colouring, and an assortment of sweets and chocolate.
At an rsp of £32, the creepy kit is available for nationwide delivery.
For something a little less frightening, Spooktacular Mini's (£7/each) comprise blood orange, Oreo and vanilla flavours. Each cheesecake has an Oreo biscuit base and Raspberry Blood centre.
The No Tricks, All Treats cheesecake is available now until 31 October. Meanwhile, its Spooktacular Mini's are in-store at its flagship Redhill store and Selfridges London from 9 October. They can also be delivered within a 70-mile radius from RH1 Surrey or Selfridges London.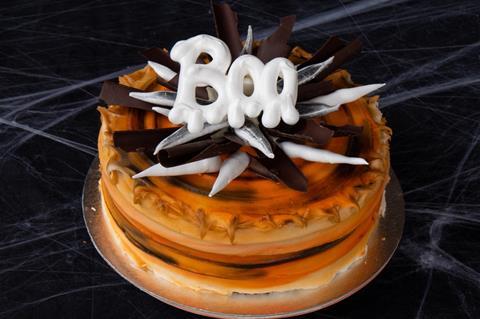 Konditor
London-based Konditor has unveiled its new Boo range, available to order until 31 October.
It features the Skull Splatter Cake, Ghost 'Boo'ster Cake and Boo Delicious Cake, all from £25.
Spooky selections include Halloween Skull Cake & Treats Extravaganza, Halloween Boo Cake & Treats Extravaganza, Halloween Ghost Cake & Treats Extravaganza and Boo Time Treats, at £35 each.
For some socially distanced trick-or-treating, its Halloween Brownie Slab (£25) can be shipped to friends within the UK. Other haunted items come in the form of the Boo Jammer Box of 4 (£10) and Blobby Meringue Ghosts (£6.75).
The Boo range is available exclusively via the Konditor website.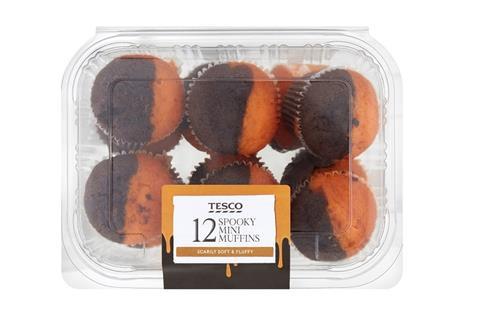 Tesco
The retailer has burst onto the spooky scene with its new Halloween range, available now.
Its Halloween cupcakes (£1.50/two pack) feature chocolate sponge cakes filled with chocolate flavoured sauce, topped with green vanilla flavoured frosting and decorated with a witch hat and pumpkin sugar decoration.
Consumers can also enjoy the witching hour with Halloween Iced Ring Doughnuts (£1.20/four pack), topped with orange icing and spooky sprinkles.
For bite-sized options, there are Spooky Mini Muffins (£1.50/pack of twelve) which are chocolate and orange.
At 60p each, its Halloween Gingerbread biscuits are iced to resemble the iconic Frankenstein's monster or a mummy.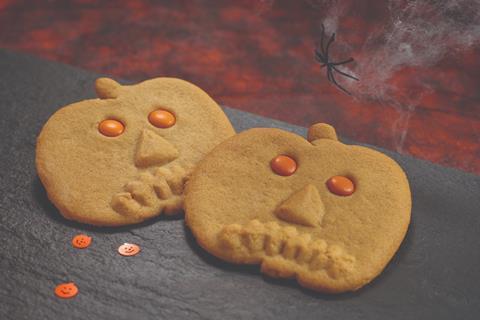 Country Choice
Kent-based Country Choice has three new thaw-and-serve Halloween bakes.
The Funtime Chocolate Orange Doughnuts contain a sugared chocolate flavouring and orange filling. They're available in cases of 80, including bags and labels.
Its Halloween Gingerbread Pumpkins, meanwhile, have risen from the dead after a relaunch. The 65g ginger-flavoured biscuit features chocolate bean eyes.
The supplier's Spooky Halloween Cupcake is topped with vanilla icing and a chocolate pumpkin. The 85g treat is individually wrapped and comes in cases of 20.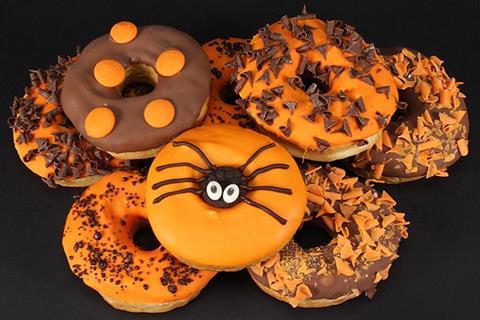 Bradfords Bakers
Based in East Kilbride, Bradfords Bakers has geared up for the spooky season with its Halloween Gifts range.
Its Spooky Spider Halloween Doughnuts (£12.90/ box of eight) are hand dipped in Belgian chocolate. One in every eight doughnuts features an Oreo biscuit decorated as a spider.
For plenty of toil and trouble, consumers can celebrate with the Halloween Witch Chocolate Fudge Cake (£15.90). It features chocolate sponge, chocolate fudge frosting, witch ornament and a chocolate plaque with a personalised edible message.
The Ghosts, Witches and Werewolves Cupcakes (£15.90/ box of six) are decorated to resemble ghost, witch and werewolf faces. The ghost and witch variants comprise Madeira sponge and a swirl of frosting, while the werewolf cupcake comprises chocolate sponge and chocolate fudge icing.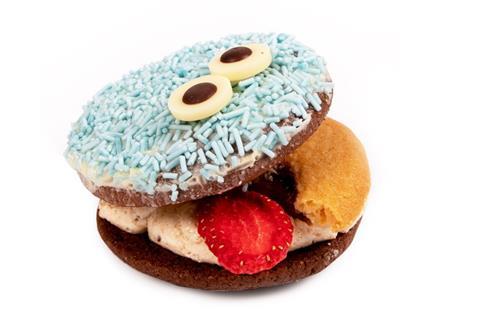 Cutter & Squidge
Renowned for its cookie/cake hybrid baby biskies, Cutter & Squidge has unveiled a host of spellbound treats.
To dive headfirst into Halloween spirit, consumers can try its Spooky Halloween Cake from £37.50. It comprises chocolate sponge, orange cookie buttercream, chocolate custard, chocolate chip cookie crumbs, chocolate sauce and Madagascan vanilla buttercream.
For a spooky twist on the bakery's popular baby biskies, its Halloween Cookie Monster Halloween Biskie is available from £18.90. Its blue sprinkles, strawberry tongue and dulche de leche centre make for some kooky party food.
Its Vegan Black Velvet & Raspberry Loaves Halloween Loaves are available in a tray of ten for £34.50. The chocolate sponge loaves are complete with hand-piped raspberry buttercream and a sprinkle of raspberry pies.