Creating tasty plant-based bakery goods can be challenging. But effective flavour research can help to make these as appealing and indulgent as traditional bakery products, says Natalie Sheil, bakery category manager at Synergy Flavours

As more consumers move towards plant-based diets, the food and drink industry has had to respond at significant pace to keep up with this growing demand. But how can bakers create plant-based products that taste just as good as their traditional counterparts without using eggs, butter or cream?
Power to the plants
Over the past five years, visibility and interest in plant-based diets has increased substantially, having gone from niche, to trend, to what the organisers of Veganuary this year called "a cultural shift". Google search interest reveals that global interest in the term 'plant-based' has been growing steadily since 2015. We are also beginning to see signs that the global pandemic may accelerate the trend even further as consumers become more conscious of their health and impact on the planet. Twelve per cent of adults agree that the Covid-19 pandemic has made a vegan diet more appealing1.

However, with only 2% of the UK population claiming to be strictly 'vegan'2, why has the shift towards plant-based eating happened so dramatically? Central to the growth of plant-based has been the rise of so-called flexitarians – people following primarily plant-based diets but who occasionally eat animal products. While strict vegans have learned to become accustomed to the taste of plant-based products, flexitarians are more demanding when it comes to matching up the taste credentials with traditional products. The demand from flexitarians for plant-based products without compromising on taste is fuelling a wave of innovation across the food industry as manufacturers race to create the best-tasting product on the market. This, in turn, is making the switch over to plant-based a much easier transition for consumers.
The rise of plant-based bakery
Plant-based is still a relatively new claim in the bakery category, but it has seen significant growth in the past five years, with product launches carrying a 'vegan' claim increasing by almost 170% since 20153. In 2019, 22% of bread launches in the UK carried a vegan claim, rising to 27% in the first month of 2020. This is being driven by both a rise in plant-based innovation as well as some brands piggy-backing on the trend by adding 'vegan' claims to products that are intrinsically plant-based.
The biscuit category is leading the way when it comes to plant-based innovation in the UK. This is largely being driven by a demand for more healthy snacking options. - a trend highlighted in Synergy's previous feature for British Baker. Generally, UK consumers perceive plant-based biscuits to be more natural (48%) and healthy (45%) than their conventional counterparts4.
Cakes and pastries are slightly lagging behind the trend in the rest of the bakery market, however, as only 3% of cakes launched across Europe in 2019 carried a vegan claim (vs. 6% in the biscuit market)5. There is evidence to suggest that innovation in this area would be welcome as cakes with vegan credentials would appeal to 20% of cake consumers, rising to over a third of the under 35s6. This split in interest between demographics suggests there is more work to be done on the taste of these products, with 51% of consumers saying that inferior taste is the primary barrier to making a switch to plant-based variants7.

The challenge for plant-based bakers
The absence of eggs, milk, cream and butter in plant-based recipes makes delivering on indulgence and flavour particularly challenging for bakers. Synergy Flavours has been developing various plant-based bakery recipes, including muffins, cookies, cakes, fillings, frostings and morning goods such as brioches. The Synergy team have been conducting sensory analysis on these recipes in order to understand the taste and aroma properties of plant-based baked goods.
The sensory study starts with descriptive analysis whereby trained panellists set out to identify the characteristics of a plant-based product, based on aroma, flavour and texture. Each descriptor is given an intensity score, which feeds into a sensory map for each of the products tasted by the panel.
One of the recipes developed by the Synergy application team was a plant-based muffin, which is representative of other plant-based cakes on the market today. The recipe uses pea protein and starch to compensate for the egg removal and oat milk for adding some colour that would have been provided by milk or milk powder and egg in a conventional recipe. Descriptive sensory analysis conducted on the plant-based muffin revealed significant beany and starchy notes with a distinct lack of flavour delivery.
Similar challenges arose from the development of a crème pâtissière recipe, which again makes use of an oat dairy alternative in the place of milk, while the addition of starch adds structure and thickness to the cream filling. During the descriptive sensory analysis, panellists detected a cereal flavour note – which can be attributed to the use of oat milk – as well as a lack of creamy texture and indulgence.
Understanding the inherent flavour contributed by plant-based ingredients in these recipes allows flavourists and application teams to develop a solution that masks the undesirable flavour notes while building a rich creamy profile characteristic of dairy ingredients found in bakery products.
Delivering on taste
The next step in the process of recipe development was to work on a flavour solution that could deliver on the taste and indulgence aspects that consumers demand from plant-based products.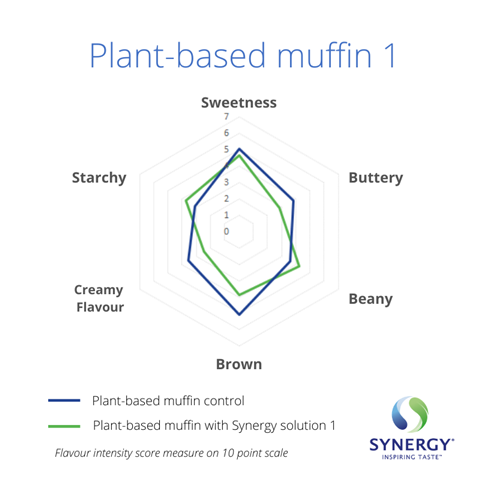 For the vegan muffin recipe, two different solutions were trialled, both offering a different resulting taste and aroma profile. The solutions were selected to help boost both the creamy mouthfeel and the overall baked taste profile and aroma of the muffin.
The sensory map reveals that solution 1 significantly increased the brown 'cooked' aroma and flavour which would usually be contributed by the eggs in a recipe. There was also a significant increase in creamy and buttery flavour and aroma whilst the undesirable beany and starchy notes were reduced.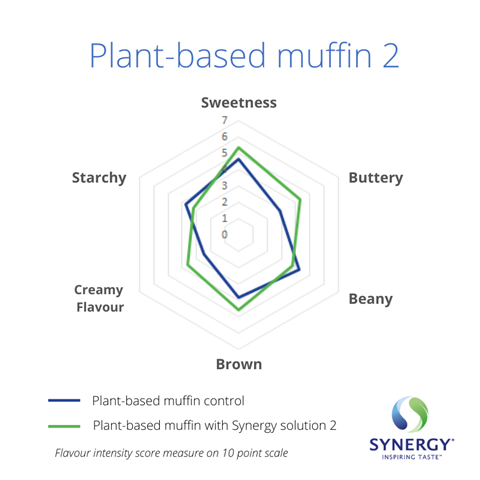 The second solution focused more on the creamy vanillic notes that are typically associated with a premium cake recipe. Sensory analysis revealed that this solution significantly increased the creamy and buttery aroma and flavour which would normally be contributed by butter in a traditional recipe. The undesirable starchy and beany notes were significantly reduced in this solution and we also noted an increase in brown 'cooked' notes with a longer lasting and fuller mouthfeel.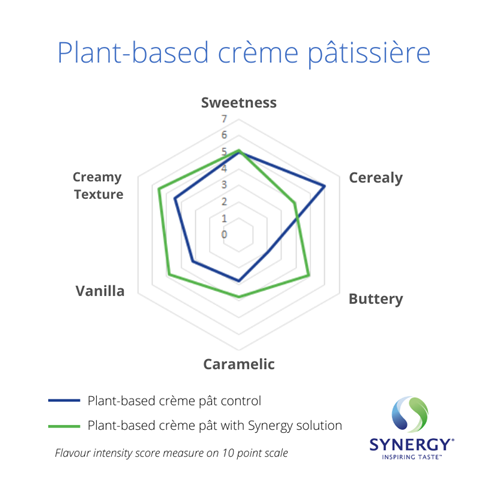 For the crème pâtissière recipe, Synergy trialled a natural flavour with the objective of boosting creaminess and masking off-notes. The sensory results reveal that the flavour added, significantly increased the creamy texture while also masking the cereal notes derived from the milk alternative. Sensory data also showed that the solution had the additional benefit of boosting the buttery and vanillic flavour that is typical of a crème pâtissière. The 'vegan creamier mouthfeel' flavour used within this recipe has proven to be an excellent solution across many types of plant-based bakery fillings such as chocolate ganache and frostings.
Great-tasting dairy, without the dairy
Synergy combines 55 years of Irish dairy heritage from parent company Carbery, with flavour expertise to deliver a complete dairy taste experience, without the dairy. Synergy's range of vegan dairy flavours can mimic the flavour character of real butters, creams, milk and cheese while also managing undesirable notes associated with many plant-based products on the market today.
To find out more about our innovative range of vegan dairy flavours and masking solutions for plant-based bakers, visit our website: uk.synergytaste.com/dairy-flavours
Sources
1 Mintel, Bread – UK, October 2020
2 Finder.com, UK Diet trends 2020
3 Mintel, GNPD: Launches with vegan claims
4 Mintel, Vegan biscuits target interest in plant-based diets
5 Mintel, GNPD: launches with vegan claims
6 Mintel, Cakes, cake bars and sweet goods, UK 2019
7 ADM, Outside voice study