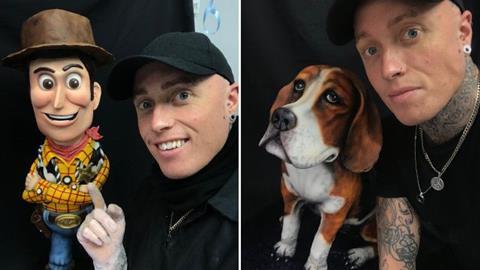 British Baker talks to Ben Cullen, cake artist and star of Extreme Cake Makers, about his path into the industry, his favourite bake and his experience on the Channel 4 show.
Ben Cullen was working as a tattoo artist when he first learned about the art of cake decoration.
"I was making polite conversation with a customer's mum and she was telling me about sugarcraft," he tells British Baker.
"She showed me some pictures of a Peppa Pig figure on a round cake, and I thought it was a toy until she told me she had made it, and I was fascinated."
As with any form of art, he decided he had to give it a go. He got a basic cake recipe from his mother and made his dad a birthday cake.
"In hindsight, that cake was terrible, but I was so proud of it," he says.
Cullen then got a job as a graphic designer and continued making cakes on the side before taking the leap to becoming a full-time cake artist in 2016.
"I got to a point where I just had to give it a go, otherwise I'd have looked back and wondered what could have happened. It was definitely a risk – the career I was leaving was secure, I had my list of jobs to do each day and I did them, but I loved doing cake design," he explains.
In the early days, Cullen did his fair share of tiered wedding cakes and creations for christenings, but now specialises in sculptured cakes – an area of the market he feels lucky to have found.
His inspirations are varied, and could include a new film release, pop culture or what's going on in the news.
"If I come up with my own design for a competition or an exhibit, more often than not it's an old man with tattoos," he adds, explaining that he loves the "textures and expressions" and the stories a face can tell.
Cullen starts by planning the sculpture, opting not to draw out a design, except when he's on Extreme Cake Makers. Then, he bakes the cakes and stacks them using chocolate ganache, which is his preference over buttercream as it sets more solidly.
He then carves the cake into the shape, covers in ganache and leaves to set before covering in sugarpaste, although he is looking to transition to a modelling chocolate covering. He achieves the required finish with airbrushing, adding in any pinpoint details with a small paintbrush.
"I'm massively into airbrushing," he says, "it comes naturally to me – perhaps because of my tattooing background."
One of Cullen's recent creations was a head sculpture of Leigh-Ann Pinnock, one quarter of Little Mix (pictured right).
"It was a totally different technique, a bit of a risk," he explains.
For this, Cullen stacked the cakes and carved Pinnock's face into them, to allow her hair to also be made of cake.
"Normally I'd make the head out of cake and make the hair out of sugarpaste, but that wouldn't have been possible with her hair and it wouldn't have been nice to eat.
"I wasn't sure it would work, but it did, so that was one of my favourites."