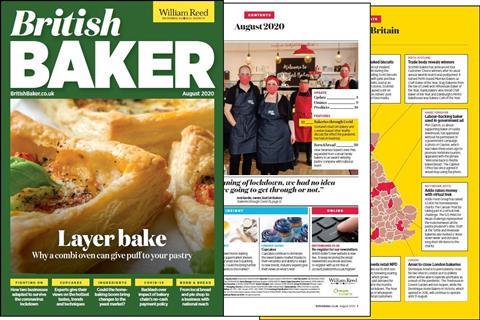 The digital version of the August edition of British Baker magazine is available to readers now.
In the face of the Covid-19 outbreak, we are working to ensure our readers have the information they need, when they need it. To help achieve this, we are currently making the digital edition of the magazine available to all readers by clicking here.
Among the content in this month's mag is:
Combi & Convection Ovens: When it comes to producing perfect pastry, many experts suggest opting for a combi or convection oven as they can offer bakers greater flexibility
Yeast: The lockdown home-baking boom saw supermarket shelves emptied of yeast due to packing limitations. Could this bring further developments to the market?
Cupcakes: Cupcakes continue to dominate the sweet bakery market thanks to their versatility and ability to adapt to new trends. Industry experts give their views on what's next
Bakeries through Covid: Scotland's Bad Girl Bakery and London-based Utter Waffle discuss the effect the pandemic has had on business
In addition to the magazine, we have a host of other ways of ensuring you keep up to date with the latest developments in the industry:
We will be sharing the advice and information as it becomes available on our website britishbaker.co.uk
Three times a week, we will email out the latest news and insight via our free newsletter – if you are not already a subscriber sign up now using this link
Information will be shared on our social media channels, including Facebook and LinkedIn – if you don't already follow our LinkedIn page please do so using this link.