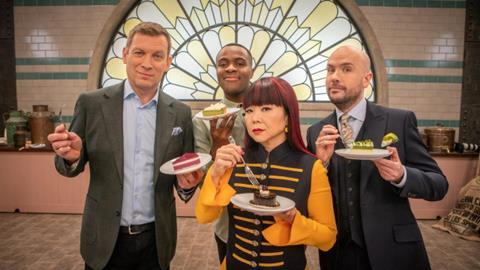 Bake Off: The Professionals is back. Twelve teams of professional pastry chefs will be pitted against each other to be crowned champions.
The show kicks off tonight (26 May) at 8pm with the first six teams – the competition is split into two heats – whipping up incredible treats for judges Benoit Blin and Cherish Finden. Hosts Tom Allen and former Bake Off contestant Liam Charles will also be returning.
Here's the line-up:
Heat one
James and Neta – Andaz Hotel, London
Team captain James' fascination with pastry saw him train as a chef in his homeland of Australia before moving to London in 2011, where he attended le Cordon Bleu, gaining a Diplome de Patisserie. In 2016, he joined Dominique Ansel as executive pastry chef, where he and Neta first met.
Neta grew up in Israel and served in the army for four-and-a-half years before deciding a career in pastry was her calling. They believe their friendship and solid teamwork is what will make them stand out against the competition.
Natalie and Kristine – Lexington Catering, London
Head pastry chef Natalie says her sweet tooth was fuelled by her grandmother who used to work for McVitie's. In 2002, Natalie won Silver for her pastillage work at the UK's largest hospitality event, Hotelympia. The pair met while on a chocolate course and became firm friends through their mutual passion.
Domenico and Alessandra – Park Plaza Hotel, London
As a young boy Domenico, now aged 30, was working in a pastry factory in his hometown in Italy at the behest of his father. Since then, he has attended pastry school, worked in fine restaurants and represented Italy and Europe in patisserie competitions. As head pastry chef at Park Plaza Hotel he manages a team of 15, one of them being teammate Alessandra who has worked with Domenico for most of her career and credits him for teaching her most of what she knows.
Tracy and Moos – T. Sweetmap, Milton Keynes
Baking started off as a hobby for T. Sweetmap founder Tracy, who was born and raised in Hong Kong before moving to Australia. The patisseries and bespoke celebration cake business is named after her travels and baking around the globe.
Moos trained in patisserie in France and began working at Michelin-starred A la Table Joël Robuchon in Paris before coming to London and working at The Ritz, The Sloane Club and the Langham. He met Tracy while working at Michelin-star restaurant The Connaught. They believe they could be the underdogs of this competition.
Clanny and Ryan – The Ivy, London
Clanny grew up in Goa, where he gained a diploma in patisserie before beginning his professional career. He went on to work aboard cruise ships and would regularly make sugar and chocolate showpieces, eventually settling in London as The Ivy Club's head pastry chef in 2018.
Ryan followed a similar path to Clanny and was also raised in Goa. In 2013, he moved to London and has been at The Ivy ever since, becoming head pastry chef in 2019. The pair have made desserts for The Queen, JK Rowling and Prince William.
Andrew and Ian – The Lounge, Ramsbottom
Northern lads Andrew and Ian make up the team from independently run restaurant The Lounge. Andrew has worked for five Michelin-star restaurants in his career including Chateau de Montreuil and Gordon Ramsey's Petrus before deciding to open his first restaurant, The Dining Room, in 2004, followed two years later with The Lounge. Ian has built his career in the north and joined the Lounge a year ago.
Heat two
Grete and Rosamaria – Cake and Bubbles, London
Grete and Rosamaria are representing dessert-only restaurant Cake and Bubbles, which resides within London's Hotel Café Royal. Grete is head pastry chef, having worked alongside her boss Albert Adria at his Heart restaurant in Ibiza. Grete offered Rosamaria the dream opportunity to work for Albert Adria in 2018, when Cakes and Bubbles first opened, giving her just one day to get from her home in Italy to London. This was no problem as Rosamaria jumped at the chance.
Laurian and Thibault – Cocorico Patisserie, Cardiff
Cardiff's premier patisserie Cocorico was founded in 2010 by Laurian after following his boyhood dream of becoming a pastry chef. Thibault, who placed second in the UK Sugar Championships in 2017, joined Laurian five years ago. They're used to the pressure, having appeared in Bake Off: The Professionals previously, narrowly missing out on that coveted trophy in the final.
Nick and Paul – Talland Bay Hotel, Cornwall
Head chef Nick learnt the tricks of the trade at various hotels, including the DriftWood Hotel which was awarded a Michelin star in his time there. He has been the head chef at Talland Bay Hotel since 2013, where he manages a team of seven, including pastry chef Paul. Having trained to work in antiques, Paul fell into a job as a kitchen porter and very quickly decided the kitchen was his true calling.
Ioan and Mareks – Macdonald Berystede, Berkshire
Romanian-born Ioan studied for his Diploma in Pastry and Bakery before moving to the UK. He worked at various hotels, climbing up the ranks before becoming head chef at Macdonald Berystede. Mareks grew up in Latvia and began cooking from the age of 14 and when he moved to the UK he helped out at a family friend's bakery before joining Macdonald Berystede in 2016 as sous chef.
Ruth and Laura – The Hurlingham Club, London
At just 24, Ruth has an enviable list of Michelin experience under her belt, including working at Angler, The Square and Hide. Unlike Ruth, Laura's career began in finance in the Colombian banking sector before she followed her dreams of being a pastry chef. Having trained at Le Cordon Bleu, she went on to garner experience at The Connaught and Harrods before joining The Hurlingham Club.
Theodore and Neil – Venachar Lochside, Callander, Scotland
Theodore grew up in Scotland and, at 14, got his first kitchen job before becoming an apprentice at the 3AA rosette restaurant Cromlix House Hotel under Albert Roux. He has since worked at Kinloch House Hotel and then two Michelin-star Gidleigh House. He travelled for two years, spending time in Australia where he won Best West Australian Dessert 2015.
Neil, also Scottish born and bred, used to be a delivery driver before an illness meant he was unable to work for a period of time. Once recovered, he decided a new career path was for him and gained experience working in pub kitchens before his experience and hard work secured him a job at 5-star luxury hotel Gleneagles. In 2018, Neil was awarded Bronze in Scottish Chef of the Year.