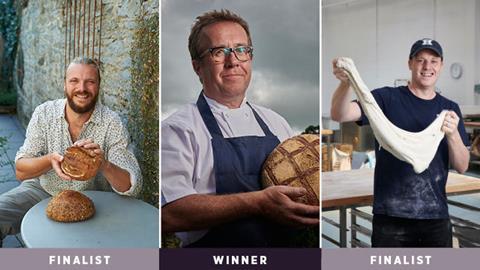 Award category sponsored by
Winner: Aidan Monks, Lovingly Artisan, Cumbria
Aidan Monks, director and baker of Lovingly Artisan in Kendal, Cumbria, oozes a combination of baking artistry and science with commercial know-how.
Original, healthy, and high quality, are his singular aims – and his breads do not disappoint.
The bakery, established in 2010, specialises in hand-crafted slow fermented 'traditional' breads, made using 30-year-old sourdough starter and all-natural ingredients.
"Dietary fibre is an important ingredient of healthy food products. I use raw milks, ancient heritage grains, and double fermentation," he says.
"Baking is an ancient art and this understanding lies at the heart of all we do.
"We supply breads to numerous hotels and catering businesses across Cumbria, Cheshire, north Lancashire and Greater Manchester."
With one bakery, two retail outlets and 20 staff, business is thriving. Monks puts this down to the business' core values: simple hard work, integrity, a culture of respect for people and breads, and an unwavering emphasis on the finest-quality ingredients to produce the finest-quality breads.
"Aidan stood out to us as Baker of the Year in a field of an exceptionally
high overall standard. His controlled approach, outstanding skills
and dedication to perfection were admirable."
Ann Wells, group marketing director at sponsor Brook Food
Finalist: Steven Winter, Bread Source
Steven Winter, owner of Bread Source, specialises in making artisan bread and pastries.
"I feel incredibly passionate about our craft and take pride in the quality and provenance of our work – from sourcing the grain, working with farmers, milling the flour and numerous processes of developing the perfect dough," he says.
Research is also important; Winter recently went to Boston for updates on sourdoughs, as well as Stockholm to study great pastries and buns.
The company is named Bread Source because provenance is so important. Employing 18, it comprises a bakery production unit, three bakery cafés in Norfolk and a stall in Norwich Market.
Winter specialises in authentic sourdoughs – white, rye and flavoured – all made with his own starter. He also serves quality coffee and specialist teas in-store. His bakery classes are often sold out early, and the business sells baking accessories for home bakers, such as quality flour, proving baskets, books and aprons.
"Whether we are making, baking or teaching, there's a lot of love that goes into each loaf, from bread to source," says Winter.
Finalist: Jack Smylie Wild, Bara Menyn Bakehouse
"I'm driven by a passion for slow food and ethical produce," says Jack Smylie Wild, who founded Bara Menyn Bakehouse ('Bread & Butter' Bakehouse) in 2015.
"It sums up what I believe in – quality, simplicity and comfort, all provided in a hub for people seeking quality bread and tasty meals," he explains.
"All our bread is made with organic flour and proves overnight. The texture, flavour and crust that develop during this cool, slow fermentation make it something special."
Smylie Wild is currently overseeing development of a new line of Viennoiserie, which he says he's "super-excited about".
Described by food critic Simon Wright as "the leading light of Welsh baking", Smylie Wild says his staple loaf is a pain de campagne with a thin, crisp crust and open-textured interior made with white, spelt, rye and wholemeal flour, natural wheat leaven, sea salt and water.
Dogs are welcome at the bakehouse and café in one of Cardigan's historic custom house buildings, with Smylie Wild providing a little annexe and a beautiful 'secret garden' out back.