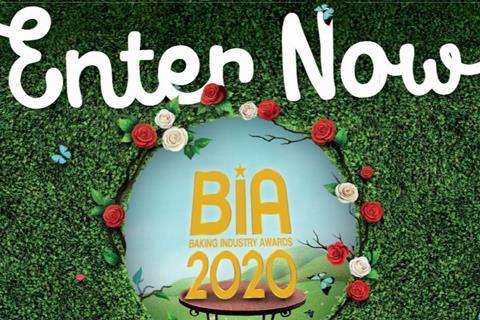 For the chance to show the biggest names in the UK bakery trade what you can deliver, enter the 2020 Baking Industry Awards!
Business and individuals who win a Baking Industry Award can benefit from fantastic publicity, recognition from your peers, and a massive boost for yourself and your staff.
We are looking for the best of the best across 13 categories, including Bakery Manufacturer of the Year, Craft Bakery Business of the Year and Supermarket Bakery Business of the Year, plus categories for individuals and products.
This year we are introducing two new categories – Bakery Exporter of the Year and Out of Home Business of the Year – giving your business even more opportunity to shine.
There is no charge to enter the awards, and entries will again be examined by a panel of judges, including representatives from the sponsoring company, plus an independent expert judge.
They will draw up a shortlist of entrants who, depending on the category entered, may be asked to send products to the judging panel, or judged on the merit of their online entry. A representative of the British Baker team then joins each of the final judging panels to agree the winners.
If selected as a finalist, you and a partner can attend the 2020 awards ceremony at the Royal Lancaster, London, on Wednesday 20 January 2021, free of charge.
This year's event will feature a colourful Secret Garden theme, and will begin with a drinks reception, followed by a three-course dinner, then the awards ceremony itself, hosted by a celebrity presenter.
And guests can enjoy entertainment into the early hours with hundreds of other delegates at this superb networking event.
"As ever, we will ensure this is a fantastic night out that will showcase not only the achievements of the industry, but also its resilience and ability to adapt to even the toughest of trading conditions," said British Baker editor Vince Bamford.
Entering the awards is simple, using our new online system. Entries from any professional bakery business are welcome, but if you have won a Baking Industry Award last year, you may not enter the same category again.
How to enter
Go to www.bakeryawards.co.uk and click on the 'Enter' button
On the next page is the 'Enter Now' button. Click on that and follow instructions.
If you have any queries, email Rebecca.George@wrbm.com or call 01293 610422.
Entry deadline is Friday 28 August 2020.
To book tickets to the ceremony
When: Wednesday 20 January 2021
Where: Royal Lancaster, Lancaster Terrace, London
Tickets: £295+VAT a ticket, table of 10: £2,770+VAT
Tickets sell out fast, so apply early to Rebecca.George@wrbm.com or call 01293 610422.
(Finalists and partners attend free)