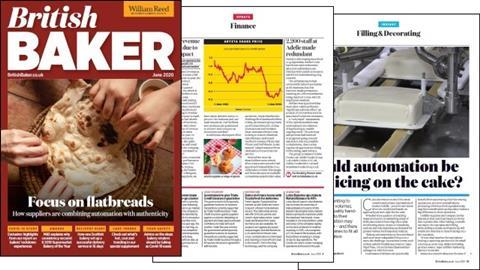 The digital version of the June edition of British Baker magazine is available to readers now.
In the face of the Covid-19 outbreak, we are working to ensure our readers have the information they need, when they need it. To help achieve this, we are currently making the digital edition of the magazine available to all readers by clicking here.
Among the topics covered in this month's mag are:
Cake trends supplement: We investigate the latest colours, flavours and formats shaping the celebration cake market, as consumers continue to seek out sweet treats
Thins, wraps & pittas: Although most flatbreads are traditionally handmade, there is no reason why automation should stand in the way of authenticity, according to some suppliers
Hygiene & Safety: A look at the extra measures bakery retailers should be taking to ensure the safety of their staff and customers as the coronavirus lockdown eases
Filling & decorating: Bakers seeking to increase volumes of hand-decorated products may use automation to achieve their goals – and there is equipment to suit all sizes of operation.
In addition to the magazine, we have a host of other ways of ensuring you keep up to date with the latest developments in the industry:
We will be sharing the advice and information as it becomes available on our website britishbaker.co.uk
Three times a week, we will email out the latest news and insight via our free newsletter – if you are not already a subscriber sign up now using this link
Information will be shared on our social media channels, including Facebook and LinkedIn – if you don't already follow our LinkedIn page please do so using this link.