Greggs has revealed that sales through its company-managed shops fell 49% year-on-year as a result of the coronavirus outbreak.
But the business reported it was already showing signs of bouncing back after reopening its stores, with turnover currently at 72% of 2019 levels.
Announcing its interim results for the 26 weeks ended 27 June, Greggs revealed that total sales, including franchised stores, amounted to £300.6m, down from £546.3m in the first half of 2019.
The business made a pre-tax loss £65.2m, in stark contrast to the £36.7m profit reported a year ago.
Greggs had made a strong start to the period, announcing total sales up 11.7% year on year in its preliminary results on 3 March, before the lockdown brought the temporary closure of the entire estate.
The business also closed most of its supply chain operations, keeping open only its Balliol Park savoury manufacturing facility to supply Iceland Foods, the Greggs-branded frozen range.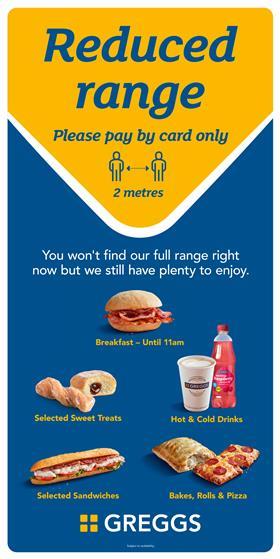 Trial opening of a small number of shops started in May to test new social distancing measures and operational processes, followed by 800 shops opening to takeaway customers in June. From 2 July onwards, Greggs has been reopening of the rest of the estate to takeaway customers.
In the first half of 2020, the business spent £2.5m on protective workwear, screens and additional signage, and said it expected to spend around £5m in the second half for protective workwear, additional cleaning and hand sanitisers.
As a result of reduced demand, the firm's product range has been limited to its best-sellers, and although three-quarters of staff are working again, some of Greggs' manufacturing and operational teams have remained on furlough. The company said its continued use of the government Coronavirus Job Retention Scheme would be crucial in supporting jobs as demand recovered.
Because of social distancing concerns, the business has been unable to deploy full teams in the busiest 20% of its shops, particularly in travel locations. This meant service was slower than normal in these sites, although this was being offset by low demand in those location due to reduced travel and less office working.
Sales have developed since reopening, and reached 72% of 2019 levels in company-managed shops in the most recent week, ending 25 July 2020.
"The variety and geographical reach of our shop estate, combined with the broad appeal of the brand, which is not materially dependent on office-based workers, means we are less impacted by social distancing than many," said chief executive Roger Whiteside.
"The majority of our shops are located in towns and suburbs, or catchments that are generally accessed by car. However, we still expect sales to remain below normal for as long as social distancing is required."
Whiteside added that the business was looking to roll out click & collect and delivery services nationwide in the coming months.
As previously reported, the firm has slowed its new shop openings plan as it assesses the impact of social distancing on trading levels, and has brought forward planned closures of shops that have become unviable more quickly as a result of current conditions.
As a result, Greggs expects to open around 60 shops and close 50 across the year.
"It remains very difficult to predict the outlook and likely performance of our business, and we recognise the possibility of further lockdowns either nationally or regionally," said Whiteside.
"However, Greggs is now well prepared to deal with the challenges of social distancing and operate through the conditions we are faced with."