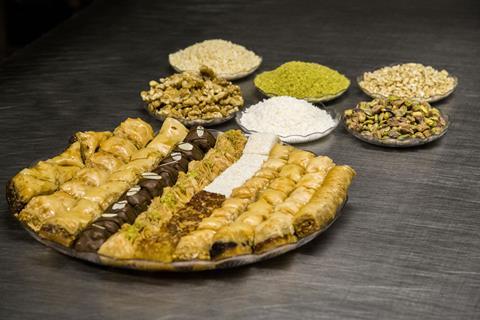 Mediterranean food supplier Dina Foods is to receive funding to help fast-track its environmental ambitions and move towards its net-zero carbon emissions goal by 2030.
The west London-based company has secured one of 12 places across the food, hospitality, film and creative sectors on London's Better Futures+ programme, which helps identify what businesses can do to become more sustainable.
As part of the package, Dina Foods will receive Green Innovation Vouchers worth £5,000 and guidance from consultants Think Hospitality and the Sustainable Restaurant Association, which will help the company examine areas where its carbon footprint can be reduced.
Dina Foods produces items such as flatbreads, as well as baklawa, and sources a vast array of raw materials for its ranges from around the globe, manufacturing across three factories and delivering fresh produce locally, nationally and across the EU, using third-party hauliers.
Speaking about the programme, which is run by business group West London Business and funded by the London Mayor's Green New Deal Fund, Dina Foods assistant general manager, Wilda Haddad, said: "Dina Foods is acutely aware of its social, environmental and corporate responsibility to be a more sustainable and greener business. That is at the forefront of our minds and is a priority in the evolution of the company. When this wonderful Better Futures+ opportunity arose, we applied immediately.
"We are only at the very start of an exciting journey with Better Futures+, which will equip us with the tools to assess our carbon footprint, and through the educational input and work with our consultants we will look at ways in which we can reduce it."