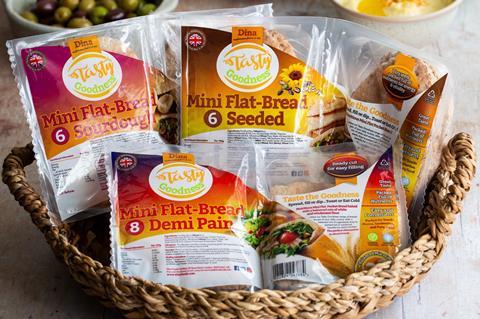 Mediterranean food supplier Dina Foods has launched a new flatbread range to tap the healthy eating trend.
The Tasty Goodness range comprises three mini flatbread variants: seeded, sourdough and demi pain. All three are made using 50/50 wholemeal and white flour.
The seeded variant contains sunflower seeds, pumpkin seeds, linseed and quinoa, while the sourdough is naturally fermented, Dina Foods said. Both are available in packs of six mini flatbreads and made using bespoke equipment in the company's London factory.
Meanwhile, the demi pain variant, which are plain mini flatbreads, is available in packs of eight.
All three are available in selected Booths stores and have a shelf life of 45 days.
"Our new Tasty Goodness breads are perfect on the go for the active person, convenient for the family looking for a quick, healthy food choice and also appeal to those wanting to try something a little different in their diet," said Suheil Haddad, managing director, Dina Foods.
Flatbread suppliers are constantly balancing the need for authentic products that can be produced quickly and cost-efficiently, as British Baker explores in its latest feature 'Master of Naan: man v machine in flatbreads'.