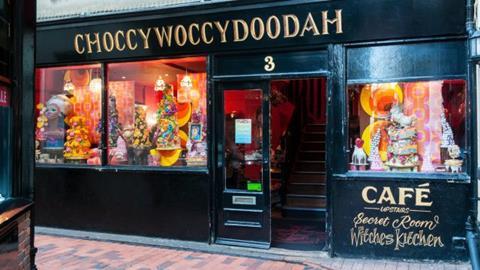 Cake business Choccywoccydoodah has ceased trading and closed its stores in Brighton and Covent Garden.
"Challenging trading conditions" have prompted the directors to instruct advisory firm Quantuma to place the business into Creditors' Voluntary Liquidation.
Founded in 2001, Choccywoccydoodah was a specialist chocolatier, famous for designing and creating bespoke cakes. The company was established in Brighton, where it operated a store on Meeting House Lane, as well as running an outlet in Covent Garden, London.
In 2009, it secured a deal to supply Selfridges Food Halls across the country with a collection of cakes, including personalised wedding and celebration cakes. From 2011 to 2014 it featured in a self-titled documentary series that followed staff producing cakes for a list of celebrities.
All operations have now ceased, and both its Brighton and Covent Garden stores have closed.
"Due to financial difficulties as a result of a challenging trading environment, increased costs and declining margins, Quantuma has been instructed by the directors to assist in placing the company into liquidation," said Sean Bucknall, partner at Quantuma.
"Quantuma has been in contact with customers that have been affected and will endeavour to make this as smooth a process as possible for all stakeholders."
Brighton & Hove Independent reported that the closure had left a number of customers without wedding cakes and out of pocket, as they had placed orders with the business. It added that a group of 40 cake-makers in the Sussex area had come together to help those customers by offering them a wedding cake at a reduced price.