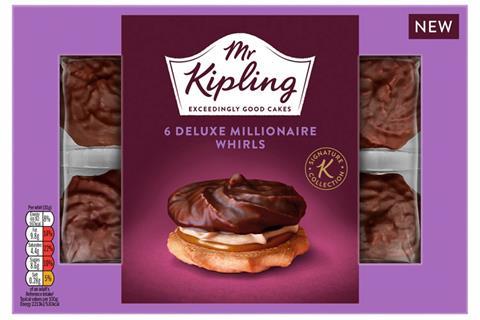 Profits at Premier Foods' Sweet Treats division have fallen by 12.5% after being impacted by increased costs relating to Covid-19.
In its half year results for the 26 weeks ending 26 September 2020, the firm reported trading profit in its Sweet Treats division of £9.1m – down from £10.4m for the same period the year before.
However, divisional revenue was up 2% to £104.8m owing to growth in branded cakes, including Mr Kipling and Cadbury.
"Divisional contribution was impacted by incremental Covid-19 related costs in a similar way to the Grocery business, although the requirements for additional social distancing measures and temporary labour was more pronounced in Sweet Treats than Grocery," the firm stated.
Additional marketing investment for Mr Kipling was also higher for the period, it added, as the brand returned to TV screens for 12 weeks with its Little Thief advert.
Sweet Treats revenue growth was described as 'modest' compared to Premier Foods' overall grocery business, which saw revenue rise by 15% to £421.5m and trading profit grow by 28.7% to £65.8m.
Mr Kipling delivered another good revenue performance, it said, following strong progress over the two years since its brand relaunch. This was driven by NPD including the premium Signature range and the mini pies and tarts collection, as well as a 'strong response' to the 30% less sugar slices.
Cadbury cake also saw revenues rise in the first half of the year owing to 'very robust' volumes from the core Mini Rolls range.
NPD is planned for both brands for the second half of the year with the Mr Kipling Signature line-up expanding with Deluxe Viennese Whirls and After Dinner Chocolate and Orange Fancies. A 30% less sugar variant of the Viennese Whirls will also be launched in the latter half of the year.
Cadbury, meanwhile, will see Oreo, Fudge and Crunchy variants added to the cake bar range as well as Dairy Milk cupcakes.
Non-branded sweet treats, meanwhile, suffered a 5.8% revenue decline. This, Premier said, reflected contract exits for cake slices and later sell in of seasonal product lines compared to the year before.