It's man versus machine in the flatbread world as producers try to strike the balance between authenticity and efficiency. Think The Terminator without the explosions or killer robots.
Instead, there is the need for authentic naans, pittas and flatbreads to be produced more quickly and cost-efficiently to meet the demand of foodies across the UK – two concepts that can often be at odds with each other.
Yet, as evidenced below, companies are learning to embrace automation with excellent results. Take naans, for example. Traditionally, they are made by sticking the dough to the wall of a tandoor, cooking them quickly to produce soft bread often with big bubbles.
"A tandoor is only used in three or four countries and is an open-top, high-temperature oven. It's very different to any other one you find around the world," says Butt Foods' managing director Dan Butt. "Most ovens are enclosed and work at lower temperatures, like pizza ovens."
Having worked with a tandoor in his family restaurant, Mazhar Butt (Dan's father) knew the importance of creating a soft, authentic naan bread when he established Butt Foods in 1990.
But, with the company's output now at 15,000 naans an hour, a tandoor isn't exactly feasible.
As such, the company came up with its own oven, designed to offer the best of both worlds. It's the brainchild of Dan Butt's late grandfather and is a family secret.
"We have designed the oven to replicate a tandoor. It has bespoke burners which provide a more intense heat like a tandoor and that gives a better bake and nice bubbles," Butt adds.
"Ours is open, which stops the product from drying out and gives a softer eat."
West London's Dina Foods has also embraced automation for its range of flatbreads, including the Paninette, which is described as having the characteristics of a wrap but opens like a pitta pocket.
"We use authentic methods, but some processes, which were previously manual, have been transferred to machine to benefit from advances in technology," notes managing director Suheil Haddad. "Where bread was once kneaded and cut by hand, there is now a continuous method of doing so by machine; this process follows the same techniques that are used manually, but optimises and speeds up the results."
The Paninette dough is then fed into a purpose-built tunnel oven, which includes a fire-stone cave shape with a gas burner. The gas fire, says Haddad, hits the stone at an extremely high temperature, meaning the dough is cooked within seconds. A similar method is used for pitta bread but, as the dough is thicker, it requires a longer bake.
"There are many advantages to these methods, aside from the fact that it is a lot faster to bake using our tunnel ovens than by traditional methods. You also get more flavour within the dough of the breads from the stones," he adds.
However, some processes still require human interaction.
"It is essential that the baker who runs the mixer for the dough has a good level of experience with baking and is well trained in mixing techniques, recipes and controlling the dough," Haddad says.
Some require more hands-on time than others. Dina Foods' lavash, for example, follows a more traditional method of production. It is hand-stretched by skilled bakers who use a special heat-resistant and heavy cushion to shape it before placing the dough in a dome oven for a short burst.
While a human touch is still needed in some places, manufacturers are proving man and machine can live in harmony after all – at least when it comes to flatbreads.
Mix it up with alternative flour types
Think beyond wheat when it comes to flour for flatbreads.
"Alternatives to wheat flour for savoury baking include chickpea, lentil, yellow pea and fava bean flour and, while they are great additions to breads, they are also increasing in popularity in pittas, flatbreads and wraps," says Tasneem Alonzo, joint managing director, EHL Ingredients.
Vegetable flours – such as spinach, beetroot or pea – are also gaining traction in tortillas as they bring vibrant colours, interesting flavours and added nutrition.
"Chefs would be wise to develop wraps, pittas and thins using alternative flours as it's certainly a trend to watch out for – especially among vegans and those following a free-from diet," she adds.
NPD in thins, wraps and pittas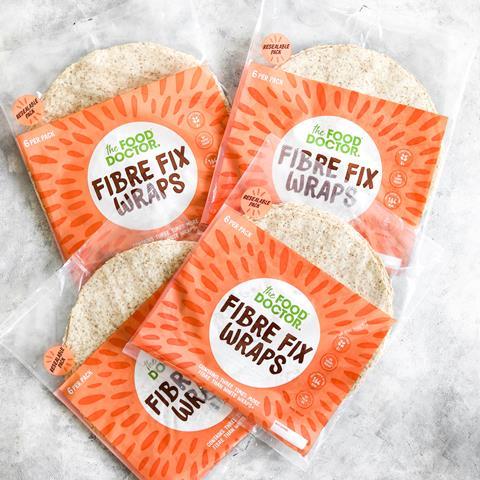 Fibre Fix Wraps, The Food Doctor
The Food Doctor recently rolled out a high-fibre wrap aimed at health-conscious consumers. Described as having three times the fibre and half the salt of regular white wraps, each Fibre Fix Wrap contains 6g of fibre, 4.8g of protein and 164 calories and is sold in packs of six (rsp: £1.50). "We have worked with nutritionists and dieticians to create the Fibre Fix Wraps, which give people another way to get extra fibre into their diets," says MD David Balmer.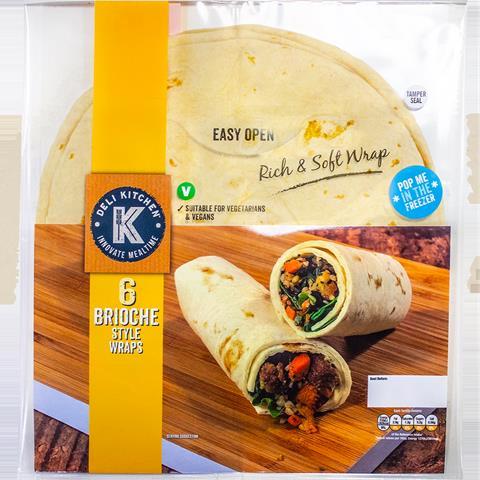 Brioche Style Wraps, Deli Kitchen
Signature Flatbreads brand Deli Kitchen has added a sweet and savoury brioche-style wrap to its range. They combine the buttery sweetness of French brioche with the softness and versatility of a Mexican tortilla, according to the company. Made with vegetable oil spread, the wraps (rsp £1.35/six-pack) are suitable for vegetarian and vegans and are designed to answer the consumer need for "new and exciting products to alleviate mundane mealtimes", the brand adds.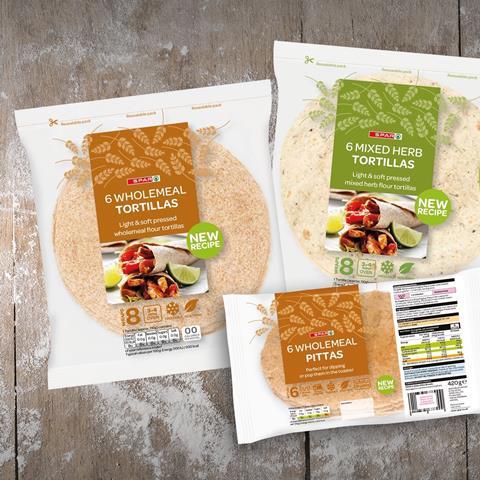 Mixed Herb Tortillas, Spar
Spar expanded its own-label speciality breads earlier this year with three new products. The Mixed Herb Tortillas (rsp: £1) are described as "light and soft pressed" and feature dried herbs, including basil, oregano, parsley, marjoram and thyme. They were joined on shelf by wholemeal tortillas (rsp: £1) and wholemeal pittas (rsp: £0.80). "Wholemeal is driving the category because of its nutritional benefits," says Myles Mersh, Spar UK assistant brand manager.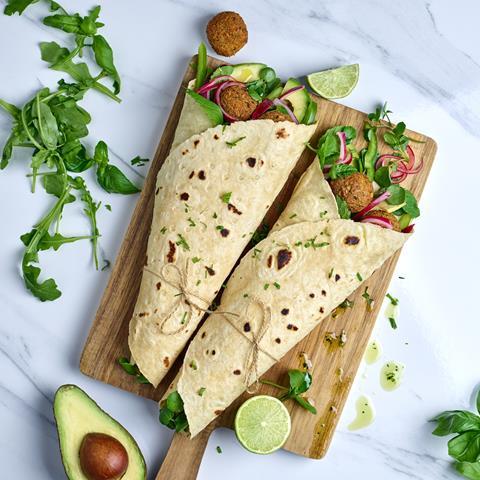 Gluten-free wraps, Central Foods
Distributor Central Foods added a gluten-free wrap to its foodservice line-up in late 2019. Described as high in fibre, a variety of flours were used to create the wraps including sorghum, cornflour, buckwheat, millet, teff, rice and chickpea. "Being soft and flexible, this has been developed to overcome the issues of splitting during preparation, which has sometimes been a challenge in the past with gluten-free wraps," says Central Foods managing director Gordon Lauder.