There's some debate about the origins of filo – or phyllo – pastry. The thin, unleavened dough has roots in Turkey and Greece and, arguably, makes an appearance in Homer's Odyssey which was written in the 8th century BC.
Today, filo is hugely popular in the Middle East and Balkan countries, but is neglected in the UK despite being suitable for many different sweet and savoury bakes (see p35).
"It's not widely used in the UK. Filo pastry is famous for baklava and that is as far as it goes," says Aidan Monks, founder of Lovingly Artisan and the 2019 Baking Industry Awards Baker of the Year.
"Bakers do not see it as something that can be used in general purpose and it is introduced as quite a specific product. They have found it hard to think of different ways to use it. It's not used like puff pastry because it's not traditional to the UK."
One reason may be that filo production isn't an easy technique to master.
Filo comprises plain flour, salt, a little olive oil and warm water. Bakers must roll out sheets of dough to the required thickness – often extremely thin – brushing each with oil or melted butter and layering them.
Given the difficulty of producing filo, it's not surprising that even some specialist businesses will buy it in ready-to-use.
"In our bakery, we prefer to make everything from scratch, but filo pastry is the only thing we're buying ready-made. It's difficult and requires a specialised technique and knowledge because you have to roll it out very thinly for it to be successful," says Michaela Pontiki, founder and CEO of London-based and Mediterranean-influenced Arapina Bakery.
It's time for UK bakers to try to use filo pastry again
The majority of bakers are primarily using filo pastry for savoury bakes, she adds. However, bakers can create sweet filo desserts, such as mini cheese parcels, or use honey, walnuts and cream.
"It is primarily a Mediterranean way of doing things and certainly hasn't received as much recognition as other pastries have in the UK."
Some bakers have a fear of using filo, suggests Sarit Packer, co-founder of Middle Eastern food specialist Honey & Co.
"For a long time, there was a misconception that it was impossible. It was also quite hard to source. Now, every kind of supermarket has a brand of filo, which demystifies it."
Filo pastry is becoming more relevant, says Konstantinos Grigoriou, managing director at Greek ingredients and ready meals supplier Ormos Foods, who is optimistic it will find its place in the UK bakery scene.
Whether bakers buy filo pastry ready-made or make their own depends on their individual profile, adds Grigoriou. "If bakers want to have real value for money and save time, ready-made is a good solution. It does not necessarily mean that they downgrade on quality. They can buy and use as much as they want."
Suheil Haddad, managing director at specialist Mediterranean supplier Dina Foods, agrees there is a place for filo in the UK.
"There is mileage for growth in filo pastry sales in the UK: there are many different Lebanese recipes that require it. We must support clients with their recipes, whether it's for savoury or sweet pastry products," he notes.
British bakers should revisit filo pastry, adds Packer. Compared to other pastries, it is the most flexible and can be used in a variety traditional products.
"It's an ideal snack for summer because it's not as heavy as puff or shortcrust pastry – it's light and crispy. It's time for UK bakers to try to use it again."
Filo products from around the world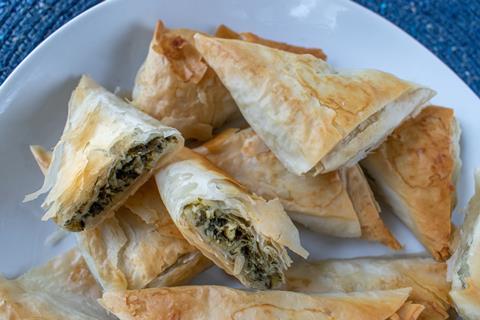 Spanakopita, Greece
One of the most popular filo pastry dishes in Greece is Spanakopita, also known as spinach pie. It consists of a traditional filling of chopped feta cheese, spinach, onions, egg and seasoning. Using butter or olive oil, this is wrapped or layered using filo pastry. Bakers can cut it from a large pan or roll it into triangular portions. When baked, it should turn golden brown. For an on-trend vegan dessert, bakers can use oils such as coconut or nut, instead of butter and eggs, and fill it with tofu instead of cheese.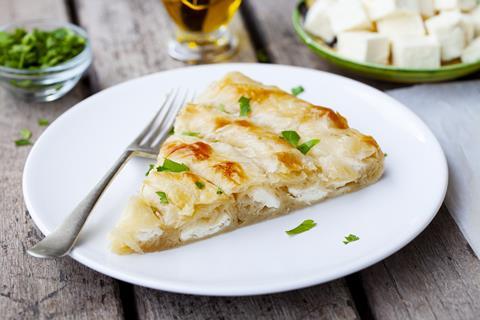 Banitsa, Bulgaria
Banitsa comprises whisked eggs, natural yoghurt and pieces of white-brined cheese. Traditionally, bakers will put lucky charms into the pastry for celebrations such as New Year's Eve. The charms may be coins or small symbolic objects. Wishes include happiness, health or success. Bakeries can pair Banitsa with plain yoghurt, the yoghurt drink ayran or fermented drink boza, and serve it hot or cold. Some varieties include Banitsa with spinach, milk or pumpkin.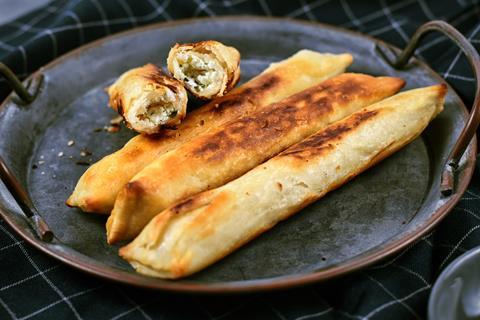 Börek, Turkey
Dating back to the Ottoman Empire, Börek is a baked filled pastry made of a thin flaky dough, such as yufka or filo pastry. It can be prepared in a large pan and cut into portions after baking, or as individual pastries. To finish the dish, bakers can add nigella or sesame seeds. Most often, the pastry filling is savoury, such as cheese, ground beef, or spinach. Other fillings include potato, vegetables or sausage.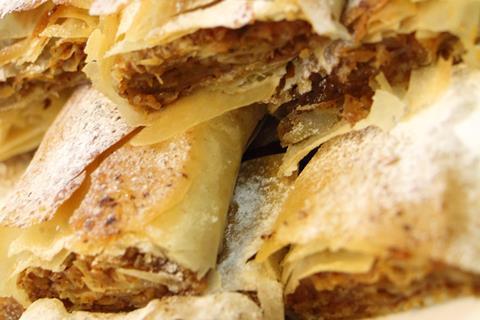 Bundevara, Serbia
Known as sweet pie, this Serbian pastry consists of rolled filo, filled with sweetened and grated pumpkin pulp. Bakers can add nutmeg, cinnamon or other spices to the filling, as well as raisins and grated lemon rinds. Once baked, bakers can finish the Bundevara with icing or vanilla sugar, and serve it either hot or cold. The name Bundevara means 'pumpkin' in Serbian.