As the 'Greggs effect' takes hold, and vegan-friendly treats from sausage rolls to croissants sweep the nation, cakes are being left behind
Veganism has dominated food and drink recently, from new launches to makeovers of existing products, emotive news headlines and, of course, that Piers Morgan tweet.
Much to Morgan's dismay, it turns out the nation was waiting for a "vegan bloody sausage" wrapped in flaky pastry and priced reasonably at just over £1 apiece.
But while Greggs' vegan sausage roll, and others' savoury meat-, dairy-, and egg-free delights soar, cakes are being left behind.
Research by analysts Mintel found that just 21% of consumers felt vegan cakes sounded appealing. So, what can vegan sweet treats learn from their savoury counterparts' success to woo consumers?
First of all, they have to overcome the association that 'vegan' could mean compromising on taste.
"Sweet baked goods such as cakes are seen as an indulgent treat by consumers, one that is savoured and enjoyed. Ingredients such as butter, eggs and milk are traditionally used in cakes to build the indulgent and moist texture that consumers have come to expect," explains Janin Zippel, European marketing manager for bakery at Ingredion.
"The perception is, therefore, that when these animal-based ingredients are removed, the texture and gratification of consuming the product is lost."
Admittedly, some still view meat-free alternatives as no substitute to the real thing, but many have been convinced by their efficacy. This is because it's a more established trend, cemented by the so-called 'Greggs effect', notes Vhari Russell, founder of The Food Marketing Experts. "For many, it was hard to beat a meat-based sausage roll," she says. "Greggs proved them wrong."
That's not to say cake creators aren't working hard to convince consumers of the deliciousness of vegan baked goods – and have been doing so long before the famed sausage roll hit the scene.
The Hummingbird Bakery, for example, debuted vegan goods in early 2018, with many of its classics – such as the red velvet cake, devil's food cake and rainbow cake – receiving vegan makeovers.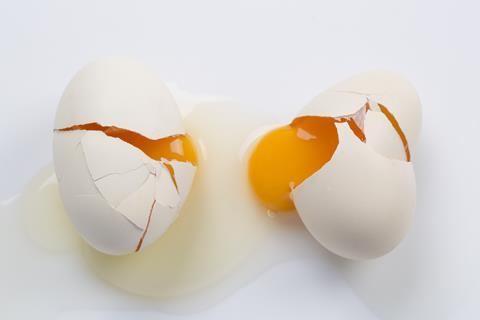 Lola's Cupcakes, meanwhile, added a vegan passion fruit & coconut cupcake back in 2014, with fudge, lemon & raspberry, pistachio & cherry and strawberry flavours since added to the range.
And, while not a vegan retailer, Cake Box has enjoyed explosive growth thanks to its egg-free cakes and now operates from more than 120 locations across the country.
However, Puratos UK senior product manager Philippa Knight notes that, by comparison to savoury, sweet vegan alternatives are "still relatively early in their product lifecycle".
"Consumers have been eating meat alternatives for several years, but many will not have had opportunities to experience delicious vegan patisserie products yet," she says, adding that the rise of vegan 'junk food' means bakery and patisserie has a key role to play in plant-based indulgence.
To tap this opportunity, the products need to be on par with, or better than, the traditional versions.
"Vegan bakery is still evolving, so many ingredients have focused on functionality – mouthfeel, texture and flavour for example – rather than visual appeal. For consumers looking for an indulgent sweet bakery treat, a vegan cake would not always be top of the wish list because it is not eye-catching enough – and that is an important part of the sensory experience that customers seek," explains Jacqui Passmore, marketing manager UK and Ireland at Dawn Foods.
This is echoed by Ingredion's Zippel, who believes reformulating in line with trends cannot come at the expense of the eating experience. Therefore, ingredient innovations that allow product quality to be maintained, or even improved, are essential to supporting vegan sweet bakery.
Many of bakery's biggest suppliers are already looking to fill this gap, from vegan mixes to fillings, toppings and inclusions.
Just this year Bakels extended its 100-strong range of vegan-friendly products with four new fillings in lemon, orange, chocolate and caramel variants. Late last year, Puratos rolled out a Satin Vegan Complete Plain Cake Mix, adding to the 250 vegan products in its portfolio. Dawn Foods also added to its range – which includes vegan crème cake mixes – with an egg-free glaze and a chocolate vegan mix.
But reformulating isn't enough on its own as "label-savvy consumers want choice, transparency and trust in the booming plant-based market" both in and out of home, says Zippel. "This trend for short, recognisable ingredients, means manufacturers and bakers need to ensure they are developing delicious vegan sweet treats that balance consumer eating experience and label expectations, while remaining cost-effective."
It's a trend highlighted by Dawn Food's Passmore, who believes vegan products with natural ingredients are "more likely to stand the test of time". "The vegan trend is definitely here to stay, but demand for healthy rather than processed vegan products will increase," she says.
Taste will always be king, though. After all, cake is an indulgent product. Regardless of whether the person buying it is vegan, looking to try something new, or seeking comfort from a vegan version of an old favourite, the cake has to be delicious.
"Taste is so important," adds Russell from The Food Marketing Experts. "More and more vegan products just taste delicious and therefore stand out for taste alone."
Tasty, quality products that just happen to be vegan are likely to be the ones gaining shelf space (and headlines) in years to come.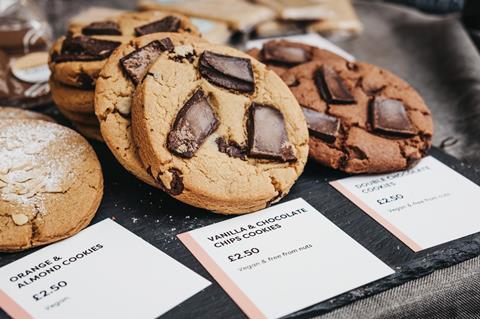 Marketing masterclass: the vegan dos and don'ts
The recipe is nailed, the vegan cake tastes as good as the non-vegan version – but how does a bakery convince its customers of this? That's where clever marketing comes in.
"The way in which bakeries present and talk about their vegan products to customers is important to drive sales," explains Jacqui Passmore, marketing manager UK and Ireland at Dawn Foods.
"Messages such as 'too good to be vegan' and 'as good as' other non-vegan counterparts are strong in the savoury vegan market."
There's no reason why these wouldn't work when it comes to vegan sweet treats as well.
While there are many reasons vegans and non-vegans are choosing to eat a dairy-, meat- and egg-free product – from health to environmental factors and animal welfare – they will always want it to taste good, so don't dwell on what is 'missing from the recipe' and instead highlight the positives. This needs to be reflected in the way the product is sold.
"It's important to still use descriptive words for vegan products that are associated with sweet bakery – for example, words like soft, crunchy, chocolatey, fruity and gooey. The term plant-based may also sound more appealing than vegan," says Philippa Knight, senior product manager, Puratos UK.
Thought also needs to be given to other words used.
"Avoid preachy language associated with the vegan and free-from market. Ethics are a factor when it comes to our
food choices, but at the end of the day it all comes back to flavour," says Orlaith Wood, writer at marketing consultant Reed Words.
Some bakers have reported that using the word 'vegan' can put non-vegan customers off when it comes to buying cake and other sweet treats as the 'less tasty' perception remains.
"Create delicious products that stand up on taste alone. Sample products to all consumers as you can get people to try before they buy and switch in the process," says Vhari Russell, founder of The Food Marketing Experts.
It's also important to convey the benefits of these bakes and make them competitive on price.
"Explain the benefits of plant-based bakes. What health benefits do they have? Are they lower in calories, for example?" Russell says. Make it easy to switch too, she adds.
"Using consumer panels data in your marketing campaign would be useful to drive sales. For example, '170 people out of 200 surveyed preferred our vegan ginger cake over the market leader'."
Cracking the egg conundrum
Replacing egg in vegan recipes is a difficult puzzle to crack.
"The replacement of egg poses challenges when producing vegan cake goods as it delivers several attributes," says Michael Schofield, marketing manager at Bakels. These, he notes, include creating a good structure through protein content, aiding the emulsification of the fats and water, and air incorporation.
"The most difficult functionality to replace is the ability to gel at hot temperatures," adds Janin Zippel European marketing manager for bakery at Ingredion. "Typical ingredients used in vegan cakes are functional starches and flours, vegetable proteins and fibres, hydrocolloids and emulsifiers."
Examples of sweet vegan bakery NPD
Cookies 'N' Cream, Gato & Co
While Oreos are famously 'accidentally vegan', many biscuits are not. That's why Gato & Co has launched a four-strong range of sandwich biscuits. All four, according to the brand, are vegan, high in fibre, free from gluten, dairy and palm oil and half the sugar of similar sweet snacks. The range comprises: Choc Vanilla; Choc Peanut Butter; Choc Hazelnut Butter; and Salted Caramel cookies. All are exclusive to Boots and have an rsp of £1.59 per two-pack.
Vegan Choc Macaroons, Mrs Crimble's
Gluten-free brand Mrs Crimble's has rolled out a vegan version of it's bestselling chocolate macaroon. They are said to have the same "moist cake texture" and "golden brown colour" of the original. The challenge, according to Mrs Crimble's, was removing the egg ingredients while maintaining the taste and texture, and the business says it "still holds together with all the other ingredients" without the egg. The macaroons are sold in six-packs with an rsp of £1.79.
Vegan Loaf Cakes, Cutter & Squidge
London cake brand Cutter & Squidge expanded its portfolio for Veganuary 2020 with a four-strong range of vegan cake loaves. Embracing tropical fruity flavours are the Mango Passionfruit Loaves, which feature mango sponge and passion-fruit buttercream, topped with dried mango and pomegranate seeds. There's also Chocolate Velvet and Vanilla Strawberry Loaves, as well as Banana Hazelnut Loaves topped with hazelnut buttercream and chopped nuts.
Fudgy Chocolate Brownie, Deliciously Ella
Deliciously Ella has long-touted a plant-based way of life and this is reflected in her brand from cookbooks to her deli and grocery range. The latest edition to the line-up, launched during Veganuary 2020, is the Fudgy Chocolate Brownie. Each pack, which contains two 85g brownies, has an rsp of £2.99. It is described by the brand as one of its "all-time favourite recipes" and is the most popular sweet treat from the plant-based cookbook and at the deli.