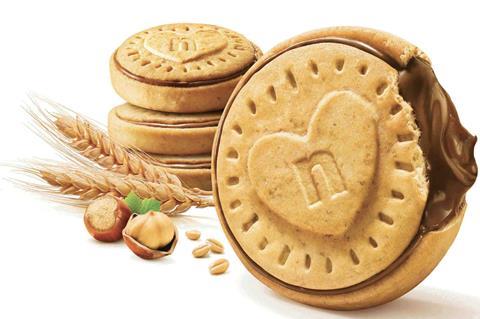 Ferrero Foodservice has extended its baked goods range with Nutella Biscuits.
Sold in individual packs of three biscuits that weigh in at 70 calories each, they are described as "combining the creamy and unique taste of Nutella with a crunchy, golden baked biscuit base".
Ferrero said the product, which can be ordered in cases of 28 packs, is suitable for grab-and-go or vending and would help cafes, bakeries and universities improve their biscuit offer.
The supplier added that research had shown coffee shops and bakeries see the highest consumption of biscuits out-of-home.
"The new biscuit makes a tasty addition to the Nutella bakery range and is the perfect snack for on-the-go," said Zareen Deboo, foodservice channel operators manager at Ferrero UK & Ireland. "This is an ideal opportunity for operators to tap into the rapidly rising demand of biscuits and is an easy way to premiumise your snacks using the brand power of Nutella."
The launch comes a month after Ferrero rolled out a Nutella Muffin, which is intended as a breakfast or snack item and is supplied in a recyclable branded paper cup.
The manufacturer described the product as 'light and fluffy' in texture, with the centre filled with Nutella cocoa hazelnut spread. Sold in cases of 48 muffins, the product is baked, filled and frozen, and can be thawed and served in two hours.