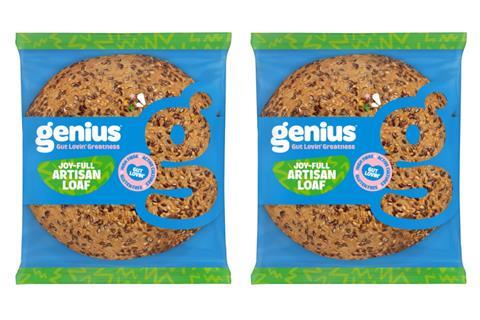 Genius has become the latest brand to tap the trend for functional loaves with a range of products baked with active cultures.
Called Gut Lovin', the five-strong selection is said to be high in fibre, gluten free and packed with vitamins and minerals with 'active cultures in every serve'.
The range comprises:
Bloomin-Great Tiger Bloomer (Rsp £3.00/400g)
Joy-Full Artisan Loaf (Rsp £3.00/385g)
Boosted Brioche Buns (Rsp £1.50 x 2)
Super Powered Seeded Rolls (Rsp £2.00/ x 4)
Feel-Good White Rolls (Rsp £1.50/x 2)
The NPD, and accompanying 'bold and vibrant' rebrand, was developed after Genius saw consumers taking active steps to nourish their gut health through the consumption of pre or probiotic foods, increased fibre intake and the reduction of gluten in their diet.
Research by the Edinburgh-based business found that 66% of UK consumers wanted to improve their gut health, with others interested in avoiding gluten or opting for healthier bread choices.
"We're thrilled to be continually expanding and strengthening our product portfolio at Genius, and the launch of our new Gut Lovin' range marks another step towards bringing products to the market which benefit gut health and enable our customers to experience the positive impacts this has on overall wellness, without compromising on taste," said Kizzy Beckett, Genius marketing director.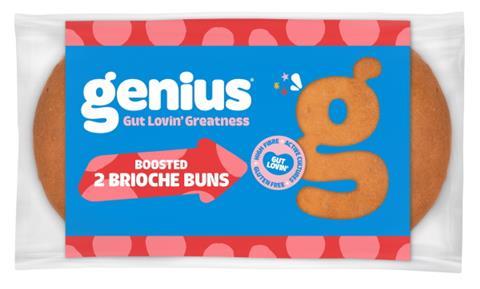 "Now available in a number of UK supermarkets in the free-from aisles, we're committed to making tasty bread with gut health benefits accessible to all."
Genius Foods supplies a wide range of gluten-free products in the UK, Australia, France, Germany, and USA, including breads, rolls wraps, crumpets and pancakes.
Genius isn't the only bread brand to target health-conscious consumers. Last month, Roberts Bakery unveiled a seeded bloomer containing 92 calories per slice and made with golden linseed flour, brown linseeds, quinoa, sunflower seeds and poppy seeds. Kingsmill, meanwhile, added two new seeded loaves to its line-up: a 50/50 Multi-Seed baked with sunflower, pumpkin and linseeds and a 50/50 No Bits Multi-Seed made with milled sunflower, oats and linseed.
And, Oxfordshire-based Modern Baker debuted Superloaf which it claimed to be the 'healthiest loaf ever made'. The seeded sourdough, which took five years to develop, is aimed at supporting immune health and counts barley flour, sunflower seeds, tapioca flour, hemp and seaweed among its ingredients.