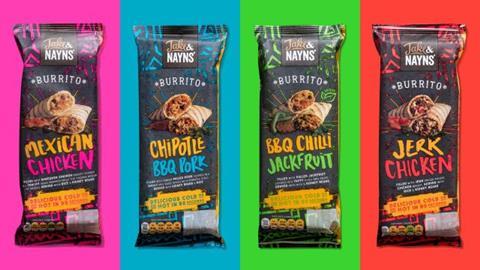 Naanster creator Jake & Nayns' has expanded its portfolio with a four-strong range of burritos.
The line, which boasts one vegan and three meat options, is available in Sainsbury's, with an rsp of £2.50 for a 205g burrito. All of the products can be eaten cold straight from the pack or hot after being warmed in a microwave for 90 seconds. The range comprises:
BBQ Chilli Jackfruit Burrito, filled with pulled jackfruit cooked in a chilli BBQ sauce and served with rice and kidney beans
Mexican Chicken Burrito,filled with shredded chicken breast, cooked in a sauce from the Yucatan region of Mexico and served with rice and kidney beans
Jerk Chicken Burrito,filled with jerk spiced pulled chicken breast and served with rice and kidney beans
Chipotle BBQ Pork Burrito,filled with pulled pork, cooked in a smoky BBQ sauce, spiced with chipotle chilli and served with kidney beans and rice.
They range from 357 calories to 435 calories per burrito and have no red traffic lights on their nutritional label.
"Our ongoing aim is to bring world cuisine ready-meal flavours to the on-the-go category by offering a more healthy, tasty and convenient option to what's already on the market," said Jake Karia, managing director of Jake & Nayns' producer Food Attractions.
"Following the amazing success of the Naanster, our first product in the Jake & Nayns' range, we are confident that our burritos will see the same love from consumers who need a quick and easy but nutritious meal on the move."
Naansters, a range of ready-to-eat filled naan breads, were revamped last year with new recipes and a vegetarian option.