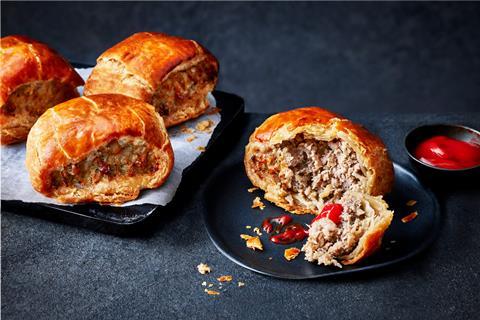 Marks & Spencer (M&S) has expanded its in-store bakery range with a sausage roll.
Part of the retailer's Our Best Ever range, the savoury pastries are available from the M&S Foodhall in a pack of two for £4 or warm at in-store bakeries for £2 apiece.
They feature puff pastry, which takes three days to make by hand, with over 2,000 layers of pastry on each roll. The filling is made from RSPCA-assured, British Select Farms Pork, and is seasoned with caramelised onion, parsley, sage and a touch of coriander by bakers in North Yorkshire.
"Customers told us that, for them, the Our Best Ever sausage roll needed a deeply golden flaky pastry, with just the right amount of filling and, all importantly, no gap between the sausage and the pastry casing," said April Preston, director of product development at Marks and Spencer.
"Nobody wants to feel short-changed when they bite into a sausage roll to find it's half empty, so we made sure ours contained the ideal 70% meat to 30% pastry ratio."
Other products in the Our Best Ever range include a ham & cheese sandwich, a quiche Lorraine, a prawn sandwich and a steak pie, among other items.