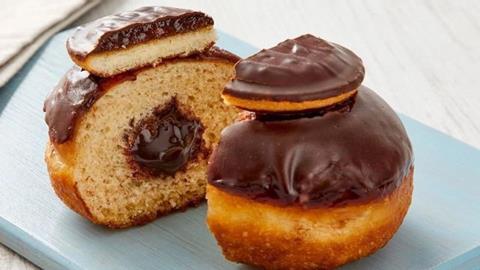 Morrisons is tapping into the trend for premium doughnuts with a trio of 'luxury' NPD.
Priced at £1.50 for a pack of three, which Morrisons said was a saving of 70% on the leading brand alternative, the doughnuts will be available in Morrisons' stores with cake shops.
The three-strong range comprises:
Raspberry & White Chocolate: filled with raspberry jam, hand-dipped in a raspberry glaze and topped with white chocolate curls
Jaffa Chocolate Orange: filled with chocolate and orange sauce, hand-dipped in a chocolate glaze and topped with a Morrisons Jaffa Cake
Strawberry Dream: filled with strawberry jam, hand-dipped in white icing glaze and topped with strawberry meringue pieces.
Asda has also been tapping into the trend having launched Extra Special Doughnuts as part of its 2019 spring/summer range. Priced at £1.80 for a pack of two, they come in Salted Caramel, Chocolate Indulgence and White Choc & Raspberry variants.
Subscribers to British Baker can find out more about how major retailers are taking on doughnut specialists by reading our latest feature: 'Can the supermarkets do top-tier doughnuts?'.