Bakers have been busy 'sprucing' up their offer to create un-fir-gettable savoury treats this winter.
Quiches, pork pies, croque monsieurs, sandwiches, slices and savoury turnovers are among bakes to experience the full festive trimmings' treatment.
Below we take a look at what's new in the world of seasonal savouries from Paul, Country Choice, The Original Baker, Ginsters and Greggs.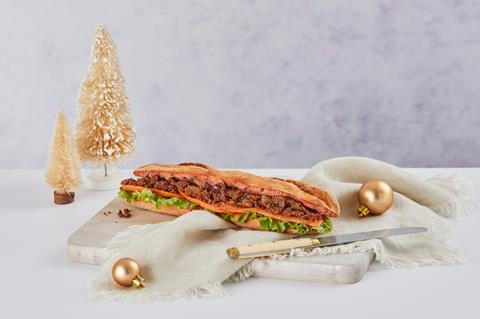 Paul
Bakery chain Paul is warming up the winter holidays with a hot selection comprising a Turkey Sausage Roll (rsp: £3.75) and Christmas Croque Monsieur (rsp: £4.95).
Two seasonal sandwiches have also made their debut. The Vegan Stuffing Sandwich (pictured, rsp: £4.65) features a mix of sweet potato and chestnut stuffing, vegan pâté, grilled carrots and salad, topped with cranberry sauce and wrapped up in a sage, onion and cranberry baguette.
Paul's Boxing Day Ham Hock Sandwich (rsp: £4.45) is a take on the classic Boxing Day leftovers sarnie. The turmeric baguette is filled with slices of ham hock and mature cheddar, topped with piccalilli and Batavia leaves.
The limited-edition range is available in all Paul shops, as well as on Uber Eats and Deliveroo until 31 December. The bakery will donate 15p from the sale of every sandwich to Place2Be, a charity focused on helping improve children's mental health.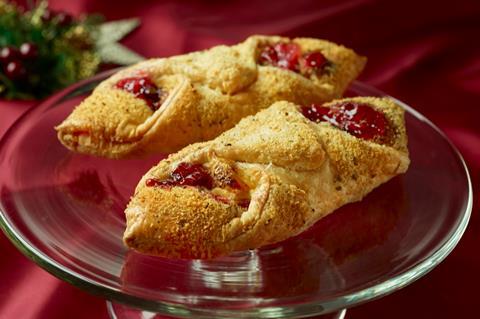 Country Choice
Country Choice has added a new Brie and Cranberry Turnover to its savoury pastry selection. It sits alongside a returning Turkey, Stuffing, Cranberry and Ham Bake, a Chicken and Stuffing Bake, and Steak and Cheese Bar.
Two bite-sized savoury options in the form of Sausage Rolls and Cheese and Onion Rolls are also available, alongside a Turkey, Stuffing and Cranberry sandwich filling for food-to-go retailers seeking to give their sarnies a Christmassy twist.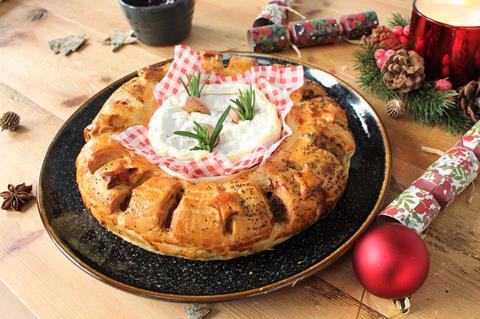 The Original Baker
Bells are jingling aplenty over at The Original Baker, which has created an array of savoury party food inspired by festive classics. Among the line-up is a Brussels and Bacon Quiche, combining sautéed sprouts, dry-cure bacon and free-range eggs on a crisp all-butter pastry case.
For pork pie aficionados there's a thinly pressed Smoked Bacon with Tangy Orange Marmalade and Warming Stem Ginger option made with a hot-water crust pastry enriched with butter.
Pasty lovers can also choose the pastry producer's Yuletide bake. The pork, sausage meat and salty dry-cure bacon snack is jewelled with apricots and dates and encased in a flaky all-butter puff pastry.
Hog roast enthusiasts have not been forgotten, with the artisan pastry producer pulling out a bake-from-frozen Hog Roast Garland combining pulled pork, apples, honey and pastry. "Our Hog Roast Sausage Roll has always been incredibly popular, so it makes perfect sense to now offer the garland in this favourite flavour, alongside the traditional Turkey, Bacon and Cranberry Garland," sales & marketing director, Cheryl Barrett, said.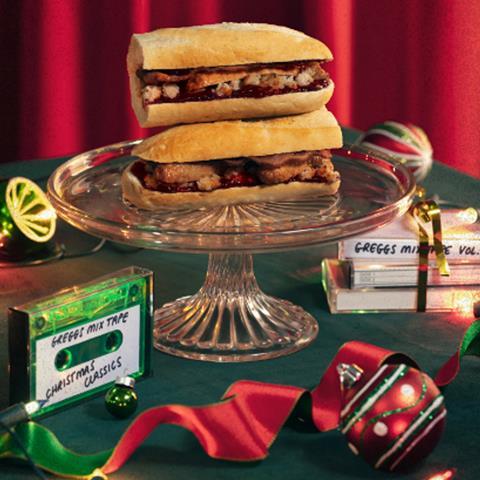 Greggs
Greggs is resurrecting some of its festive favourites including its Pigs Under Blankets Baguette (pictured), a white-breaded feast of cooked pork sausages, smoked sweetcure bacon, pork, sage & onion stuffing, and a cranberry and port sauce garnish (rsp: £3.20).
The brand's original Festive Bake, which is filled with pieces of chicken, sage & onion stuffing and sweet-cure bacon, in a creamy sage & cranberry sauce and encased in crumb-topped pastry, will also return joined by a new Vegan Festive Bake, made with Quorn mycoprotein pieces, sage & onion stuffing, and a vegan bacon crumb, finished with a sage & cranberry sauce encased in puff pastry. The two are available in-store as of November 22 (rsp: £1.60).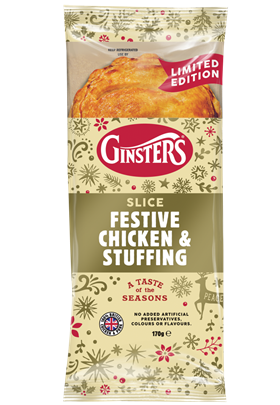 Ginsters
Ginsters is joining in the fun with a limited-edition Festive Chicken & Stuffing Slice (rsp: £1.70/170g). The 100% British chicken and smoked bacon filling features a creamy sauce with potato, sage and onion stuffing and is wrapped in light puff pastry, topped with a crispy sage crumb.
"We pride ourselves on playful, full-flavoured and delicious recipes which banish the boring and capture the specialness of the time of year," Sam Mitchell, Ginsters managing director, said. "This is the taste of Christmas wrapped up (in pastry) by Ginsters."