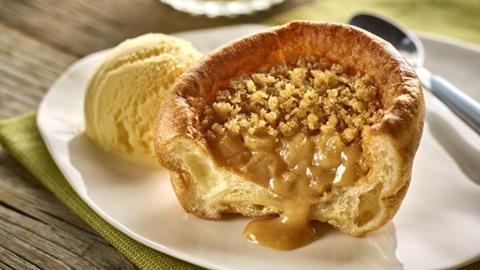 The Real Yorkshire Pudding Co has gained listings in Asda for two new dessert Yorkshire puddings.
Available in Rhubarb & Ginger Crumble and Toffee Apple Crumble flavours, they are rolling out to Asda stores in Yorkshire ahead of its celebration of Yorkshire Day on Wednesday 1 August.
The gluten-free puddings are filled with fruit compotes topped with a crumble and sauce. Both have an rsp of £1.50.
"We think our customers will love these new sweet Yorkshire puddings. We haven't seen anything like it in the chilled dessert fixture before, and with the products launching just in time for Yorkshire Day, it's the perfect time to give them a try," said Jessica Dunn, Asda.
"Over the years, Yorkshire puddings have been eaten as starters and desserts and this is a great way for us, as a brand, to put a modern twist on a traditional British classic," added Charles Payne, managing director of The Real Yorkshire Pudding Co.
The company manufactures a range of own-label and branded products at a site in Thorne, near Doncaster, and produces 120 million Yorkshire puddings a year. These include its own branded filled products available in Smoky Cheese & Bacon, Sundried Tomato & Pesto and Creamy Mushroom.
Yorkshire puddings have experienced a resurgence in recent years, popping up as trendy wraps at street food festivals. Morrisons even rolled out a Yorkshire pudding pizza earlier this year.