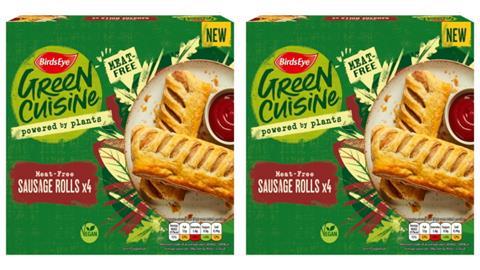 Birds Eye has extended its range with its first vegan sausage roll.
Part of the Green Cuisine range, the company's meat-free sausage rolls contain seasoned pea protein filling encased in a puff pastry. It is designed to replicate the traditional Birds Eye Homebake frozen sausage rolls, said the company, and is free from artificial colours, flavours or preservatives.
Birds Eye has also rolled out a Meat Free Chicken Pie, with pea protein, vegetables and gravy.
The launch follows development of vegan sausage rolls by a host of bakery businesses.
"We know that sausage rolls are one of nation's favourite snacks, so we wanted to create a meat-free version that perfectly replicates the taste and texture of high-street outlets, but with the convenience of being able to cook at home," said Anne-Marie Gayer, senior brand manager at Birds Eye.
"As the pastry is only cooked once, it results in a lighter and flakier pastry compared to just warming through a chilled sausage roll. We've also ensured that our recipe has the perfect ratio of seasoned vegan sausage to flaky pastry."
The Green Cuisine Meat-Free Sausage Rolls (rsp £2.50) are available in the frozen aisle of Sainsbury's stores nationwide.