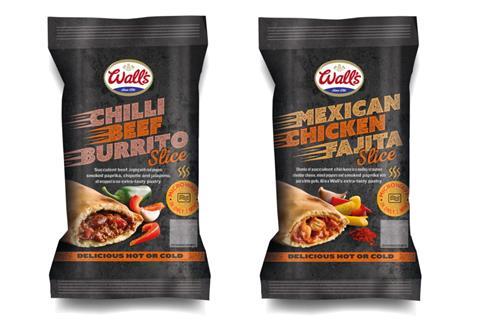 Wall's Pastry is rolling out a duo of microwavable slices inspired by world flavours.
The range features a Mexican Chicken Fajita Slice and Chilli Beef Burrito Slice. Both 180g variants will be available for an rsp of £1.50 from 16 November in selected Tesco stores.
The slices are a 'modern twist' on Wall's traditional pastry slices and can be heated in the microwave or consumed straight off the shelf, it said.
The Mexican Chicken Fajita Slice is filled with pieces of chicken and mature cheddar cheese blended with mixed peppers, smoked paprika, cumin, chilli and garlic. It contains 21.6g of protein, 13.5g of fat and 432 calories per slice.
The Chilli Beef Burrito Slice, meanwhile, features beef and red peppers with a blend of smoked paprika, chipotle and jalapeno spicing. It has 15g of protein, 12.4g of fat and 382 calories per slice.
"We wanted to create products that offer new and exciting flavours from the world, while also providing a tasty product that could be heated and consumed quickly for those that are on the go," said Mike Holton, brand manager of Wall's Pastry, which is owned by Addo Food Group.
The slices follow the launch of its healthier chicken range earlier this year, which included roast-dinner inspired rolls and a Chicken Scotch Egg. Wall's Pastry also rolled out a vegan range last year after a rise in demand from flexitarian consumers.
"After seeing the success of our healthier chicken and vegan rolls, we wanted to continue expanding our snacking range to respond to the increasing consumer demand for products featuring world flavours, provide healthier options and ultimately challenge the traditional options and flavour profiles in the category," Holton added.