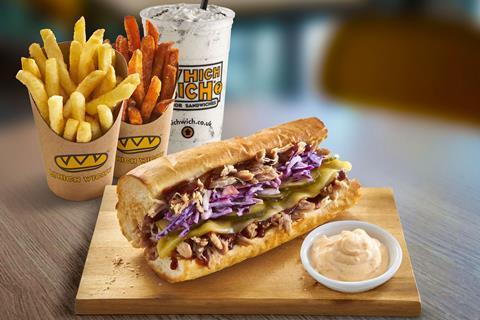 Which Wich, the US-founded sandwich chain, is to open dark kitchens in Battersea and Bethnal Green this month.
The Texas-based company, which has operated a restaurant in London's Central St Giles plaza since February 2018, will supply made-to-order hot toasted sandwiches and salads for delivery only to postcodes across London.
The move comes as the business was forced to tweak its 'short-term expansion plans' and postpone the launch of two city workforce locations as a result of the Covid-19 pandemic.
"In a challenging time for the London hospitality market, we are delighted to have the proven track record to launch new openings, bringing renewed menu choice to London customers and new jobs for talented team members," UK master franchisee Rami Awada said.
The brand operates a system where customers can order from a set menu or build their own sandwiches from a selection of toppings.
The company also produces a hot breakfast muffin range featuring poached eggs, sandwiches and artisan coffee and supplies cookies, shakes and sweet potato fries.
Which Wich was founded in Dallas, Texas, in 2003 by entrepreneur Jeff Sinelli and has approximately 500 sites in 10 different countries across the Middle East and Central America.