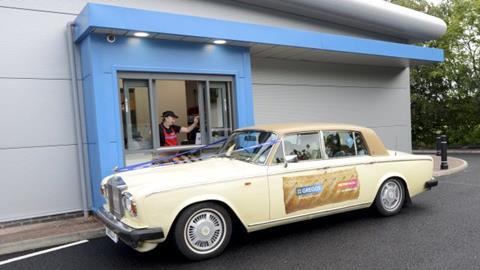 Greggs has opened a new drive-through in Newcastle, close to its first-ever store.
The latest opening, which is the fourth drive-through in Gregg's estate, is located in North Gosforth, just down the road from where John Gregg opened his first bakery.
The food-to-go retailer said the opening would create 20 new jobs in the area.
To commemorate the launch, Greggs decked a vintage 'Sausage Rolls' Rolls Royce in bunting, and allowed it to be the first car to use the drive-through, accompanied by a brass band.
The first customers through the drive-through snapped up free Greggs-themed merchandise including air fresheners and stickers.
"Since Greggs was founded 80 years ago, we've constantly evolved as a business to meet the changing needs of our customers. We know having convenient access to quality food on the go is key, so that's why we're opening more stores where our customers want us to be, including more travel locations," said Greggs chief executive Roger Whiteside.
"We've experienced high demand from our existing drive-through shops and we hope to replicate this successful format elsewhere across the UK."
Greggs' three other drive-throughs are located in Irlam (Greater Manchester), Ashby-de-la-Zouch (Derbyshire) and Blackburn (Lancashire).