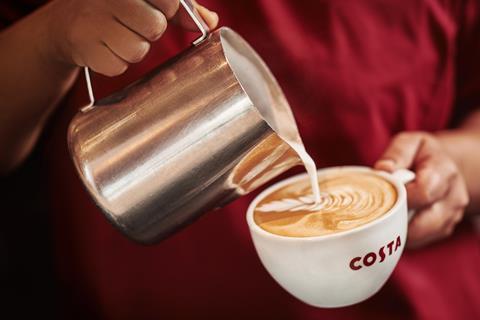 Costa Coffee is trialling eat-in at 44 of its sites from this week as it aims to open half its dining areas by the end of July.
The business, which has more than 2,000 sites, is planning to offer an eat-in option at 1,000 of them this month.
"With safety remaining our number one priority, our eat-in trial has been designed in line with government guidelines and will test the enhanced safety and operating measures we've implemented," said Costa managing director Neil Lake.
Costa has explained how its dine-in service will operate:
· Seating will be limited and operate on a first-come, first-served basis.
· Customers will be greeted by a member of staff and, if eating in, will be allocated a table. If a table is not available, customers will be encouraged to use the take-away service or wait outside the store until a table is free.
· Customers will be given a table specifically for their use ahead of being guided to the counter to place their order behind a Perspex screen.
· Tables will be placed 2m apart, except for seated customers who can be 1m+ when side by side or back to back. Any seating out of service will be clearly marked.
· Costa will also be following government guidelines and taking details of customers who wish to eat in their stores.
· As with current procedures in Costa take-away stores, hand sanitiser stations will be made available for customers, and staff will be provided with personal protective equipment.
In addition, stickers have been placed on floors to help customers adhere to social distancing guidelines, while Perspex screens have been installed at all counters, with designated pick-up points for delivery and mobile order collections.
Costa has also installed bespoke serving hatches at its drive-ins.