It's crunch time in bakery, as granola looks to make waves as an on-trend and health-conscious topping for muffins, cookies, doughnuts and more.
"Granola is moving beyond the breakfast bowl and is proving to be a very versatile ingredient," says Julie Telfer, NPD manager at cereal supplier Silvery Tweed, who notes its use as a topping to add visual interest to baked goods or as an inclusion for texture.
So, how can bakers capitalise on this trend? "Adding granola to a bake can bring a welcome crunch to whatever you put it in," says Rachel Higgins, chef at The Rude Health Café. "It adds texture and flavour."
A driving factor behind granola's rise to the top of toppings is its perceived health benefits.
"Health-conscious consumers continue to seek out pure and simple items that are free from artificial ingredients and loaded with nutrients, such as granola. Adding such products to otherwise indulgent bakery items minimises the guilt of 'me time' luxury and taps into the trend for healthier bakery ingredients," notes Jacqui Passmore, marketing manager UK and Ireland, Dawn Foods.
Dawn has used granola with its recent Flowerpot Breakfast Muffin. The muffins contain apricot pieces, dried cranberries, pumpkin seeds and apricot jam, as well as featuring a crunchy granola topping.
"Items that customers consider a healthy option are best with granola ingredients added," says Rebecca Bishop, co-owner of The Two Magpies Bakery, which has sites in Suffolk and Norfolk. Think things with lots of fibre such as grains, seeds and dried fruit, she adds. The bakery uses agave syrup and honey in its popular refined sugar-free granola bars and has launched a vegan date, walnut & banana brunch muffin inspired by granola ingredients.
According to Lydia Baines, digital and communications manager at Puratos, granola meets the needs of those looking for foods and flavours familiar to them since childhood, but also those looking for exotic and unusual tastes. This is partly because granola can be easily modified.
"Tapping into seasonal variety is key in appealing to consumers year-round," says Michael Schofield, marketing manager at ingredients supplier Bakels, suggesting the use of rolled oats and walnuts during winter, while bran flakes and colourful dried fruits such as apricots and cranberries can be used during spring and summer.
Popular flavours currently, says Telfer at Silvery Tweed, include honey, chocolate, coconut, cinnamon and maple. Meanwhile, on-trend inclusions range from cereal flakes such as oats, barley, spelt and rye to sunflower or chia seeds, as well as dried cherries and blueberries.
"Making granola from scratch means it can be personal, and specific ingredients can be added depending on the baker," notes Emma Stamp, senior brand manager at Dr Oetker. She suggests mixing it with melted butter to make a cheesecake base.
Bakers could even add a savoury twist. "Savoury granolas present exciting NPD opportunities... using cereals and seeds; and you can add different flavours and visuals to products using herbs and spices," explains Telfer, indicating they can be used to top tarts or savoury muffins.
Rude Health's Higgins offers some extra advice. "You can sprinkle granola on top of a cake before it goes in the oven to bake, but be careful not to do this on a batter that is too loose otherwise they will just sink to the bottom while baking," she says. And when used as an inclusion, granola can soften due to the moisture present.
"Granola's health benefits, taste, texture and versatility make it the number one bakery ingredient to watch in 2020," concludes Baines.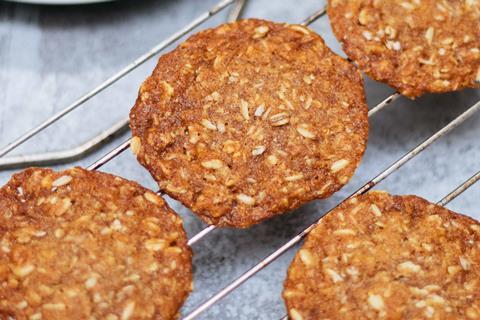 Recipe: Coconut Oaty Spelt Cookies
Makes: 20 cookies
Prep time: 10 mins
Cook time: 8 mins
Ingredients:
Rude Health Sprouted Spelt Flour, 120g
Rude Health Coconut and Chia Granola, 120g
Coconut sugar, 120g
Butter, 125g
Honey, 80g
Pinch of sea salt flakes
Baking soda, 1/2 tsp
Method:
Preheat oven to 180˚C. Line baking tray with baking parchment.
Mix the Sprouted Spelt Flour, Coconut & Chia Granola, coconut sugar and sea salt flakes in a bowl.
In a small saucepan, slowly melt the butter with the honey until combined and take it off the heat. Add in the baking soda.
Pour the wet mix into the dry mix and combine until a dough is formed.
Roll the dough firmly into balls approximately the size of a cherry tomato.
Place the balls on the baking tray. Press the balls gently down with wet fingertips to flatten them slightly and then bake for 6-8 minutes or until lightly golden.
The cookies will harden as they cool. Store in an airtight container for up to one week.
Source: Rude Health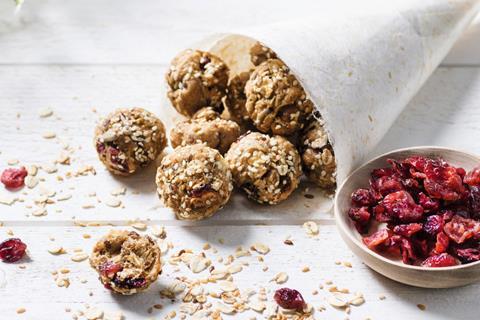 Recipe: Cranberry granola balls
Ingredients:
Vegan Granola Bake Mix, 1,000g
Vegetable margarine, 248g
Golden syrup, 60g
Water, 75g
Cranberry flavour, 2g
Dried cranberries, 80g
Raisins, 60g
Chopped mixed nuts, 60g
Sunset Glaze Bakery, as required
Oats, linseeds and sesame seeds, as required
Method
Add Vegan Granola Bake Mix and margarine into a bowl fitted with a beater. Mix for 3 minutes on slow speed.
Add liquids to the bowl, mix on slow speed for 1 minute. Add inclusions and mix for 30 seconds on slow speed.
Make the coating by mixing oats, linseed and sesame seeds.
Scale at 25g and roll into balls. Spray balls with sunset glaze and then roll in the coating.
Place in a round mould or on baking tray. Bake in aeromat or rack at 180˚C for 8-10 minutes.
Source: Puratos