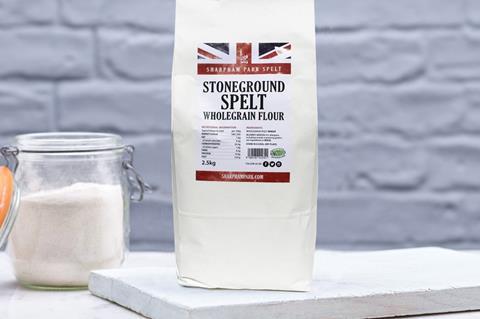 Sharpham Park has rolled out its first non-organic retail spelt flours following soaring demand during the coronavirus outbreak.
The Somerset-based business, which grows and mills organic spelt on site, said interest in spelt had been growing ahead of the Covid-19 crisis but had soared tenfold in the months immediately following lockdown.
"We grow our organic spelt on the farm and with our growers at least a year ahead," explained Sharpham Park founder Roger Saul.
"Over the last six months, even before Covid, we have been milling three times as much a month. In order not to run out before the new harvest we have supplemented our retail range with British-grown conventional spelt."
Historically, the business would have only supplied this in bulk to bakers but has developed 2.5kg wholegrain and white varieties to supply retail customers.
"This is a great addition to our existing online product range, offering the same versatility as our organic products," added Saul, who said consumers were increasingly turning to spelt for health benefits including being a source of fibre, protein, iron and vitamins.
Spelt is an ancient grain that has been cultivated for more than 7,000 years. It fell out of favour in medieval times, according to Sharpham Park, and had a brief revival in the 19th century but interest waned in the 20th century as crops producing higher yields took over.
Recently launches containing spelt include a Glorious Grains loaf from Hovis and a Spelt, Golden and Brown Linseed Seed Bread from Lovingly Artisan.
Sharpham Park has also launched a 24-hour online booking platform for ordering its products, which also include spelt cereals, pasta and grains.