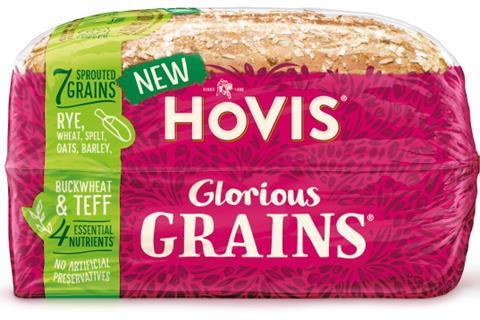 Hovis is tapping into demand for sprouted grains and healthier breads with a new loaf called Glorious Grains.
The wrapped bread NPD contains seven types of sprouted wholegrains – including rye, wheat, spelt, oats, barley, buckwheat and teff – which are soaked in natural sourdough, allowing them to soften before being baked. It also contains four essential nutrients, copper, magnesium, phosphorus and vitamin B1, Hovis added.
These nutrients can help support heart health and contribute to the maintenance of teeth and bones, the brand added, highlighting research from Zinklar, which found 52% of consumers were interested in bread that supported the immune system.
The Glorious Grains loaf will be available from this week in Sainsbury's, Morrisons, Waitrose and Tesco with an rsp of £1.50 per 600g loaf.
It comes a month after the brand unveiled its Fabulous Fibre loaf, which is high in fibre and aimed at wooing health-conscious shoppers.
Designed to deliver enhanced nutritional and health benefits, the bakery brand hopes the loaves will drive reappraisal of the pre-packaged bread category.
"This is a great addition to our health-focused range, which includes Hovis Fabulous Fibre, helping consumers reach the daily target fibre intake without compromising on taste. With more consumers demanding bread with additional nutritional benefits, Hovis is pleased to be able to answer these needs through our delicious and wholesome range," said Nina Shanahan, head of marketing, Hovis.
It also plans to add the NPD to its donations to food redistribution charity FareShare.
Sprouted grains are those that have germinated or sprouted before they are milled. When a grain sprouts, changes take place – mainly increased enzyme activity – that impact how the grain behaves when milled and used as a flour.
Sprouted grains have slowly been gaining traction in the bakery market, but using them is not without its challenges as British Baker explores in the feature: 'Sprouted grains take root in bakery'