In this series British Baker speaks to the people behind the products to find out where they get their inspiration from, what their favourite creation is and learn more about the products that didn't quite work out.
First up is Alice Leach, head of bakery product & innovation at Cornish Bakery.
What led you to a career in product development?
Food and hospitality have been my major passions since childhood and I've worked hard to make them the theme of my life through a variety of roles. Having spent years specialising in front of house roles, it was when I stepped away and retrained as a chef at Le Cordon Bleu that I was able to nourish that previously more dormant side of my passion. I chose to pursue food development as I love to create accessible, interesting products which highlight the importance of provenance and elegantly blend tradition with innovation. Being a food specialist with front of house, training, and multi-site experience in my armoury is a massive advantage, being able to envision the journey of a product end to end and side to side, internally and externally.
What does a typical workday involve?
There is no such thing! Roles like this are atypical by nature and that's what makes them rewarding. One day I'm out directing a photoshoot, another I'm visiting suppliers or our bakeries, some days I'm developing recipes or training new products to teams and some I'm working from home keeping cogs turning and laying down strategy.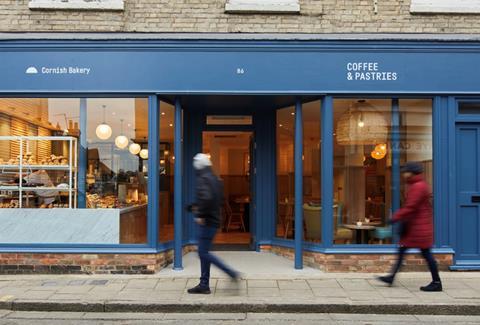 What does your process for creating new products look like?
I develop a long-term product strategy aimed at elevating and supporting our values and identity, and position us to achieve goals. Collaboration is important, so I make space for input from senior leaders and bakery teams as well as looking externally for inspiration from suppliers, competitors and publications.
From there, I delve into my food experience and knowledge to focus the scope of what sort of products, ingredients or methods support the strategy, will delight our customers and that the teams will get behind. By this stage, the outline of a flavour profile and product mix is taking shape, sometimes with specific products having been earmarked as a must. I then begin to translate these educated ideas into reality by experimenting with various ingredients, products or methods until I create a recipe I believe is solid. Then the recipe or range goes through physical trials, reviews and amendments, and ultimately launched company wide and monitored.
What is your favourite ingredient to work with and why?
Above all it is eggs. They are so beautifully versatile and nutritious. Lending themselves to sweet or savoury dishes, they impart richness and structure. They can be baked, whipped, creamed, boiled, separated, emulsified etc, and support a huge array of flavours. We can wax lyrical about fancy and exclusive ingredients, and while that is always inspiring and not to be dismissed, the egg continues to be cuisine and pastry's loyal companion.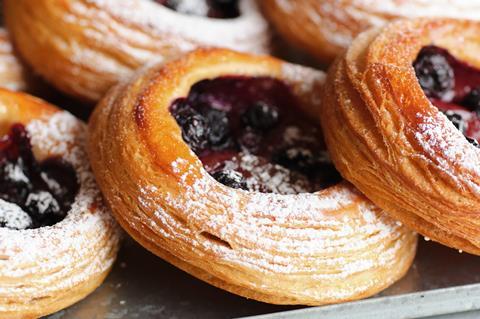 Which piece of NPD are you most proud of and why?
A recent menu launch saw one of the biggest changes to Cornish Bakery's menu for a good few years, supporting the huge rebranding project. We've introduced two pizzettas, filled focaccias and a few sweet treats and more.
I particularly love the Lemon Curd & Blueberry Danish pastry, and I am so proud of how much input the trial team had in this to make it successful. It is summery, light, zingy and sweet and adds a dash of colour to the display, and when I look at it I see the commitment and professionalism of the teams who trialled it and helped tweak the recipe before rolling it out. It is a versatile base as well, so keep your eyes peeled for some flavour changes in winter.
What was the hardest piece of NPD to perfect and why?
Cinnamon buns. There are so many different variations of these out there, it was tricky just to pick a style to begin with. You've got traditional Swedish kanelbulle tied in knots and decorated with nibbed sugar, bready Chelsea-bun style ones baked in a tray and drizzled with icing, butter fillings, cinnamon cruffins, babka style and more. Making something which could be scaled while maintaining quality and authenticity was a challenge. I started with a very buttery recipe which was delicious but ultimately not consistent when made day after day. Pastry can be very sensitive, so there were some frustrating days. I went back to the principle that sometimes deducting, rather than adding, yields a more positive outcome, and stripped the recipe back, letting the key ingredients do the talking. Its now more consistent and fun to make, meaning our bakery teams can enjoy making more of them.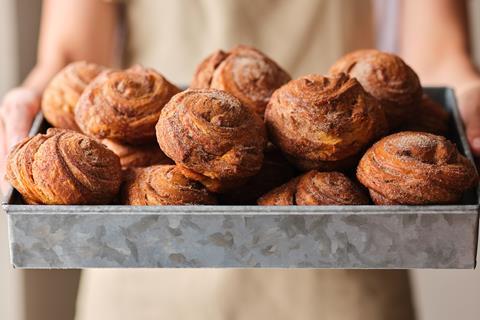 Tell us about a product or idea you really believed in but didn't quite work out.
Recently we trialled Macarons de Nancy in a few bakeries. These are a little known, unassuming cousin of the more common (and dare I say, a bit overexposed) Macarons de Paris. I remember learning about them in Le Cordon Bleu and falling in love. They are delightful in texture and have a confidence about them in their simple, rustic appearance. Visually they fly under the radar, but when you eat one it'll be firmly on your map. We had customers coming back for them multiple times in a day during the trials. Ultimately, we couldn't quite find a place for them in our sales mix, but we gave them a good shot and the recipe was decent so it's in the bank.
What is your favourite bakery product and why?
Nothing beats a perfect croissant. But I'm currently riding a wave of being enamoured with canelés de Bordeaux, having just returned from a trip there. They hit all the spots for me in terms of balance of sweetness with caramelisation, delicate vanilla flavour and a journey in texture. I love that they are a regionally specific dish which proudly represents its home wherever it goes and can be recognised globally.
What are your top bakery trends for 2023 and beyond?
I like to see businesses moving towards a less fussy, more authentic style of food and service. This begets developing relationships with local producers, understanding ingredients more deeply and connecting with customers, not just selling to them.
Bakeries are a bastion of tradition and social connectivity in a world of ever increasing digitalisation and polarisation, and while I'm no stranger to modernisation, we need protect the magic which comes from the delightful simplicity a high-end bakery delivers. It fills me with joy to see lesser known ingredients and products making their way to the UK, like kougin-amanns, and I love to see authentic, regional products offering customers a chance to travel with their tastebuds