These three businesses are breaking new ground in the baking industry, bringing Caribbean fare to the UK market – as well as an over-the-top twist on classic brownies and doughnuts.
With more consumers looking to support black-owned businesses, we speak to three entrepreneurs about the misconceptions, challenges and opportunities they've encountered on their baking journeys.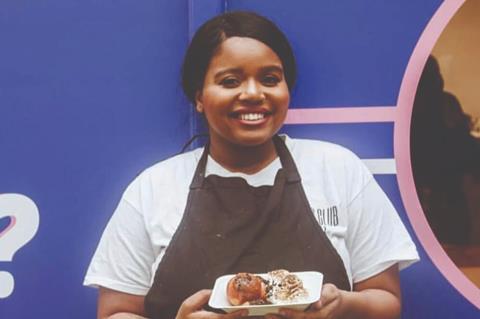 Lungi Mhlanga, owner, Treats Club
Female owned, female led and run by black girl magic – that's how Lungi Mhlanga sums up her business.
Mhlanga says she never would have started Treats Club if it weren't for the encouragement of her former colleagues. As a makeup artist at Mac Cosmetics, doughnuts were never part of her day job but she shared her passion for baking with workmates at training sessions. After a wealth of positive feedback, they gave her the confidence to turn it into a career.
"I've always wanted to go into bakery but I put my dream on the backburner. People around me pushed me towards it and now I wake up every day and I love it," says Mhlanga.
London-based Treats Club was born in 2018. Based in Hackney's Chatsworth Road Market, the stall served an array of hot doughnuts with oozy fillings, from Biscoff to red velvet.
"There's a lack of representation. You don't see anybody who looks like my mum or dad doing this on a big scale"
Fast forward two years and Treats Club has opened a permanent site in Hackney and grown a thriving online business. The latter came about as a result of the pandemic as Mhlanga admits she didn't know how the business was going to survive.
Its bestselling online product is the Oreo S'mores DIY Hot Donut Sundae Kit, while a small Nutella & Oreo doughnut reigns supreme in-store.
Despite the dessert shop's success, Mhlanga has stumbled into challenges being a person of colour in the industry.
"There's a lack of representation. You don't see anybody who looks like my brother, mum or dad doing this on a big scale. Until we get that exposure at a higher level, it's going to continue to affect those of us who aren't quite there yet," she adds.
Bakers of colour shouldn't be afraid of reaching out and asking questions, Mhlanga notes: "Every time someone has told me 'no', or a door has closed, it's because another is about to open. Don't give up and be persistent."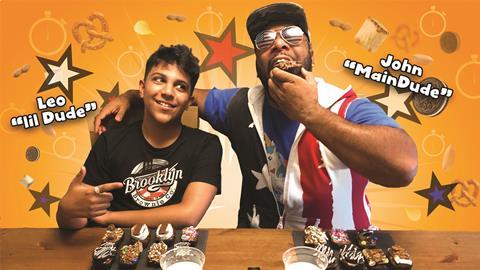 John and Leo Lashley, owners, Brooklyn Brownie Co
Father and son John and Leo Lashley make up 'urban artistry' bakery Brooklyn Brownie Co.
Based in Northampton, the business sells an array of New York-style brownies with pun-worthy names. There's the Biggie Scoff (Biscoff), The Ole Black & White (Oreo), and Staten Island Dump (topped with pretzels, peanut butter cups and more).
John, who was born in New York, never envisioned himself in the baking industry. However, after hitting a "glass ceiling" more than 15 years into a career in creative advertising and broadcasting, he decided to work for himself and launched the brownie business in July 2019.
"The first wave of Covid-19 scared me, because we had only just started rolling and then I thought we were about to come to an abrupt stop. But it was the opposite – our sales quadrupled overnight, and we suddenly had to scramble to figure out a new production pipeline," he says.
"Our brand is not a 'black brand'. It needs to be inclusive to everyone"
The duo are even crowdfunding to buy an old ambulance and convert it into a mobile shop.
After a roaring start, though, John began to recognise recurring themes in his Instagram comments. "The baking community is like the knitting community – it's not filled with people who look like my son and me. We got a few messages which stated, 'you don't look like a baker', 'you don't look like a creative type'," he says.
Despite this, they persevered, and quickly gained a loyal fanbase. Some customers liked the brownies so much, they got tattoos of the brand name.
"Our brand is not a 'black brand'. It needs to be inclusive to everyone. It is black-owned, but the focus should be on customer service and amazing products. If you focus on 13% of the population, you potentially isolate yourself from 87% of the rest. The food industry is one of the easiest to get into and grow a following for people of colour."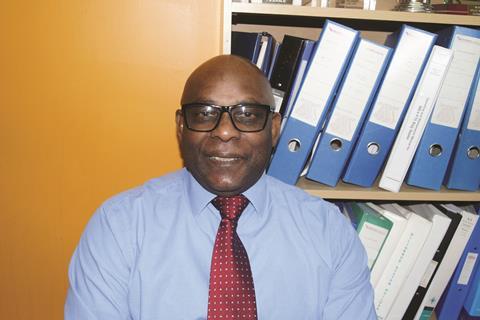 Errol Drummond, managing director, Sunrise Bakery
Errol Drummond had no intention of working in the baking industry, despite his father being a baker and business owner.
Earning his keep in his dad's Caribbean bakery as a teenager, he swore he wouldn't stay involved after leaving school, believing the industry to be "too difficult and time consuming". His mind has changed somewhat since then.
"About 13 years after leaving school, I decided to go into the family business. I could see opportunities being missed – my father and his partner served the local community in Birmingham and Wolverhampton but I had visions of taking it nationally and supplying supermarkets," he says.
Sunrise specialises in 'Caribbean baking at its finest' with its most popular products including hardo bread (a dense, sweet Jamaican loaf), spiced buns and banana cake.
"The baking industry is more diverse than it's ever been"
It wasn't long before Drummond's plans came to fruition and Sunrise Bakery started supplying major supermarkets such as Asda, Morrisons, Tesco and Sainsbury's.
"There is a more diverse range of bakes now – you can tell from the supermarket shelves," he says. "Consumers can find Asian bread, Jewish bread or French bread. And so many young people are coming into baking with new and adventurous ideas."
This is in contrast to when Sunrise Bakery became a member of the Master Baker Association in the 1980s. As Drummond recalls, they were the only black members among hundreds of "old, white men". This hasn't stopped him from making life-long friends in the industry though.
"I think an opportunity was missed in the 1990s and early noughties to try and encourage a more diverse membership. Thankfully, that is happening now. It's more diverse than it's ever been," he explains.