"We're a national baker not a Northern Ireland baker," says Michael Murphy, CEO of Portadown-based Irwin's Bakery.
It's an image Irwin's has been trying to cement for a few years and something which was a core part of Murphy's remit upon joining the company in 1999 as he was tasked with developing the business outside of Northern Ireland. "When I joined 1% of the business was outside of the isle of Ireland," he says. Today 55% of Irwin's sales are in Northern Ireland, 31% in Great Britain, 13% in the Republic of Ireland and 1% the rest of the world.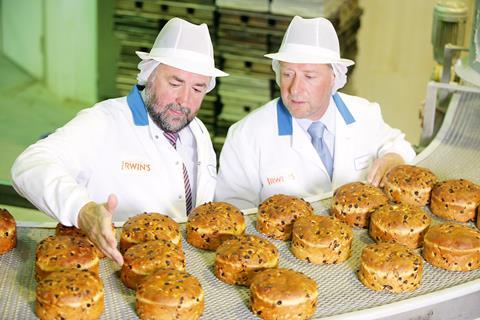 That's not to say Irwin's is pushing aside its 100-plus-year heritage, family credentials (third generation Brian Irwin is still chairman with the fourth generation represented by Ross, Stewart and Jill also in the company) and its traditional goods such as the iconic Nutty Krust. The batch baked loaves were once described by a product development manager as 'one of Europe's great speciality breads' as they're made with a 24-hour sponge and fermentation process and baked for an hour and 15 minutes.
"We have a traditional market in Northern Ireland – and it's still very strong," Murphy notes, highlighting the "famous five" bestsellers – Nutty Krust, Softee (a super soft pan bread), Veda (a malt-flavoured loaf), muffins (like oven-bottom English ones) and Jammy Joeys (Madeira sponge covered in jelly and coconut).
We're not just a small baker from Portadown, we've got national and international opportunities
Instead, the renewed image is recognition of the potential for speciality breads in Great Britain – the bestsellers here are soda farls, potato farls, wheaten bread, and fruit bread – and further afield as a means of counteracting overcapacity of traditional goods in its homeland.
As such, Irwin's five-year ambitions are to see it grow the numbers outside of Northern Ireland – a core part of its strategic review which Murphy hopes to set live come October. "It's about financial security, future growth, taking our vision forward and bringing the family along with us. We're not just a small baker from Portadown, we've got national and international opportunities."
Irwin's Together
One such opportunity recently presented itself and the bakery landed a £3.5m annual deal with Morrisons and Waitrose for its new eight-strong Irwin's Together range. It features healthier options as well as treats with the line-up including Stoneground Wheaten Bread, Brown Soda Bread, Ancient Grain Muffins, Buttermilk Muffins, Potato Bread, a Fruit Loaf, and a Cinnamon & Raisin Toasty Loaf.
"Winning new business contracts of this scale are a clear sign we are continuing to grow our share of the speciality breads market in Great Britain," Murphy explains. "Currently just under 50% of our business is outside Northern Ireland, with the bulk of that going fresh, daily, to Great Britain, and we expect this to grow with the introduction of the Irwin's Together range."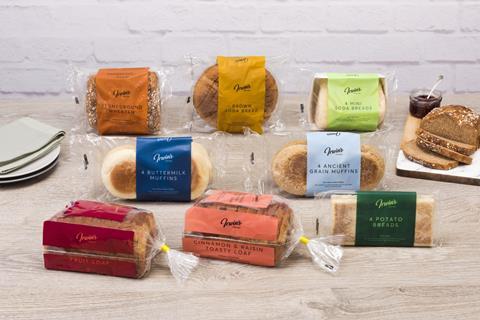 It plays right into Irwin's ambitions to be a "national craft baker", Murphy adds, explaining that it wasn't a case of presenting both retailers with finished products. Instead, the bakery articulated its vision and invited Morrisons and Waitrose on the journey.
"They've challenged us hard on product development and what they expect, but in a year when we didn't have face to face meetings it's been great that they've had the trust in us and see us as craft bakers with skill," he says. "They have to believe we can deliver on time and in full. With all the challenges of Brexit and the NI protocol they've shown faith in us."
Red tape challenges
Straight-talking Murphy isn't one to shy away from the challenges the past few years have presented in terms of legislation, and latterly Covid, but he's adamant businesses need to look at the positives and deal with things as they arise. "Forget about the Northern Ireland politics and who voted for Brexit, we have what we have in front of us," he says. "I've always been a believer that Brexit would throw up opportunities for Northern Ireland – we are in the unique position that we're the gateway to Britain and to Europe – it's a great place to be in."
So far, he says Brexit hasn't impacted Irwin's significantly but supply chain issues, particularly regarding labour, are presenting challenges. "People issues are already impacting on us in terms of availability of labour, the driver shortages, the lack of people coming into the country and their ability to come in," he says. "That will mean we have to work harder to retain and recruit, but this will hopefully give us a better workforce who are better equipped and satisfied."
I've always been a believer that Brexit would throw up opportunities for Northern Ireland – we are in the unique position that we're the gateway to Britain and to Europe – it's a great place to be in
For the 330 employees already in the business, Murphy describes their dedication and hard work throughout the pandemic as "absolutely first class", proclaiming Irwin's response to Covid over the past 12 months to be one of his career highlights.
"We got the workforce stable and comfortable very quickly," he says, attributing this, in part, to the company's Covid team which was formed in January 2020. "[We didn't form it] because we're intelligent or smart but because we were concerned about stuff we'd bought out of China," he explains. The products in question? Metal rings destined to be baked into Halloween Barmbracks which are sold in the Republic of Ireland as part of a local seasonal tradition.
Fit for the future
Both Brexit and the NI Protocol will be addressed as part of Irwin's strategic review along with other legislation coming down the pipeline, including that on high fat, salt, and sugar (HFSS) goods. The difficulty with the latter, notes Murphy, is it's not yet clear how the retailers and consumers will react and whether various supermarkets will take different approaches. Many of Irwin's products will be sheltered from the HFSS legislation, according to the CEO, but he, understandably, refuses to buy into the demonisation of bread. "I grew up in a big family with four brothers and three sisters… We grew up on a staple diet of bread – you had it for breakfast, for lunch, when you come home from school," he reminisces.
Regardless of his personal views, Irwin's must be prepared to adapt to whatever is coming down the track. "Legislation is massive. It impacts on us whether it's carbon, IR35 in terms of how we use consultants, right to remain…"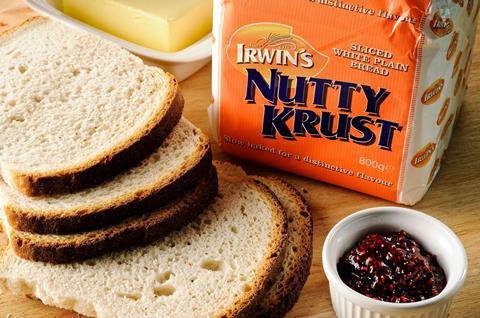 However, he insists "we can't just follow legislation, we have to follow our vision". It's a vision which includes improving the profitability of the business which had a turnover of £30m to the year ending in March 2021 but only £100,000 profit.
"We're very clear as a management team about how we have to rationalise the business and how we have to add value," Murphy explains. "White sliced bread is still very important in Northern Ireland, but our ambitions are to be a national and European supplier and to bring innovation and speciality to the market – that's the process that we're going through now."
It's a complicated process given that Irwin's bakes between 900,000 and one million products a week across its branded ranges, including the Howell's sweet treats range, Rankin Selection of soda bread and hotplate lines, as well as own label goods. It can also be an emotional process due to the family ownership, with Murphy likening delisting a product as "killing one of the children".
"That's the challenge with a family bakery," he says. "Not only are we guided by trends, facts, and data – we're driven by opinion which is deep rooted in 100 years of family baking."