Alana Spencer, founder of Wales-based Ridiculously Rich by Alana, couldn't believe it when she heard the country was heading for a two-week circuit-breaker lockdown on 23 October.
The 2016 winner of BBC show The Apprentice had spent months working on her company's oceanfront dessert bar in Aberystwyth and the grand opening was scheduled for the same day. Despite the setback, business is booming.
She shares her story below with British Baker.
How did you feel when the government announced there'd be a fire-break lockdown?
Initially, I panicked. Then it was just a disappointment. We had spent months perfecting every recipe, redecorating, pushing as hard as we could to get everything ready in time for the opening and we all had a picture-perfect image in our heads of how we hoped it would be.
It was crushing that this moment we had been dreaming of could no longer happen. We had always intended for takeaway to be a big focus of the venue, so I shook myself off and we just rearranged a few things to serve takeaway only from the serving hatch we'd built, so we could stay open.
It was the silver lining for us. Throughout this year, if I have learned anything it is that you just have to adapt to survive.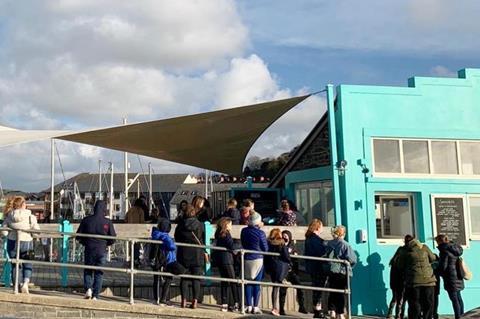 How busy was launch day?
Because people were still able to go out for their exercise they would come to the seafront for their walk and grab something on the way past. For days and days, we just had never-ending queues.
Everyone came out in their droves to support and I couldn't be more grateful. We didn't set up the outdoor eating area in the end [which caters for 40].
Are takings below or above what you expected?
Aberystwyth is relatively seasonal with its trade. It's always booming in the summer months when visitors flock to the area so opening in October, and with lockdown restrictions across the UK, we had been very tentative on our expectations for takings, but it's been more than double what we expected.
The first few days were a whirlwind. We had no idea how busy it would be and at times struggled to catch up. Some customers had to wait much longer than I would have liked to get their food, but everyone was so patient and kept saying they were just happy to support.
We could hear lots of "oooh yum!", which is always a boost. I couldn't keep up with the posts and pictures I was being tagged in on social media. Everyone was sharing like mad and it definitely helped.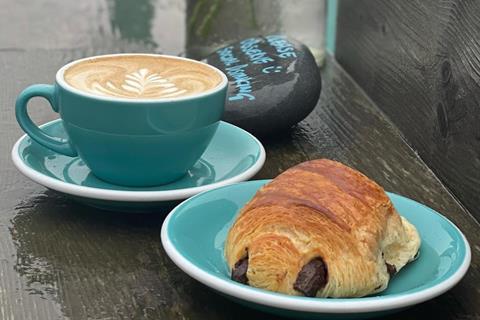 Have you had to hire more staff?
Yes. We started with two team members and now have five. We have rushes of customers daily. It's better than I ever hoped for so early on. We have already built up some regular customers with their usual orders.
How else have you pivoted the business?
We've decided to not have indoor seating anymore and just focus on the hatch and a few seats out on our decking area because it has been working so well.
This is partly because the social distancing restrictions don't seem to be going anywhere anytime soon, and as the venue is so small, it will be hard to safely welcome customers indoors.
Also, especially on a weekend when we are at our busiest, we need all the space we can for staff to make the food and drink for customers, so, for now, we will focus on outdoor and takeaway.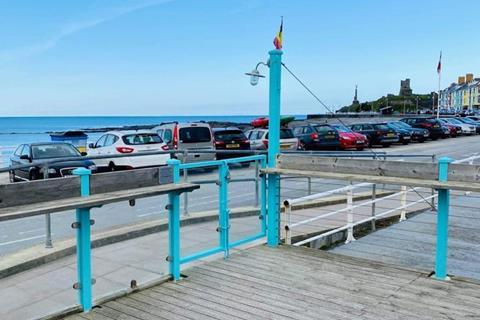 What's menu items are proving popular?
We do a lot of hot chocolates and coffees – the cold weather definitely has something to do with that.
Since opening, we have sold almost 1,500 hot chocolates alone, which is crazy. Our freakshake, fries and classic slices of cake are popular. Everything we make at the bakery is available at the café, from our classic Gooey Chocolate Brownies, Millionaire Brownies, Salted Caramel Slices and the rest.
We also offer larger cakes like Carrot Cake, Cheesecake and any others we fancy baking. We also do Soufflé Pancakes, which have been a big hit on social media. It's something fun and different.
We took a lot of time to test different drinks, try different suppliers to make sure everything was delicious and made sure our recipes are different from what you will find elsewhere. I think this paid off.
Are there any plans to introduce extra bakery items to the menu?
We have just been adding more and more. We now have different larger cakes each week like carrot cake, baked cheesecake and pavlovas.
The dessert bar is the perfect place to test new sweet treats. I have a lot more cakes I would love to try and lots of delicious plans for the summer, too.