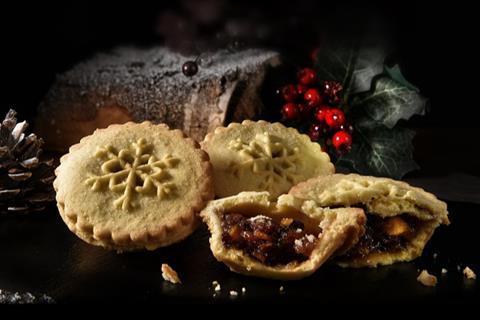 People in the South West eat the most mince pies in the UK, according to research by bakery chain Konditor.
Having surveyed 2,000 people, the London-based company found that, on average, each person in the South West eats 24 mince pies across the festive period.
Christmas consumers in Scotland and the North West followed closely behind, polishing off 21 and 20 pies respectively – higher than the national average of 19.
In last place, however, are festive feasters in London and the East of England, scoffing just 16 – less than those in the Midlands, the North East (both 18), the South East and Wales (both 17).
Konditor's survey also revealed that 53% of people in the UK would eat mince pies all year round, while 8% would never eat a mince pie at all.
The majority of the public knows how to make a mince pie, guessing the ingredients correctly, although 4% of respondents erroneously thought beef mince was used.
The research also found that the average person eats a mince pie in 30 seconds to one minute.
"I'm delighted to hear the South West loves mince pies," said Gerhard Jenne, founder of bakery Konditor. "Their moreish taste and the sweetness of the pastry with the sharpness of the filling makes mince pies very attractive and satisfying.
"There isn't really anything else around the rest of the year that is similar," added Jenne. "This would explain why more than half of the nation would eat them all year round."