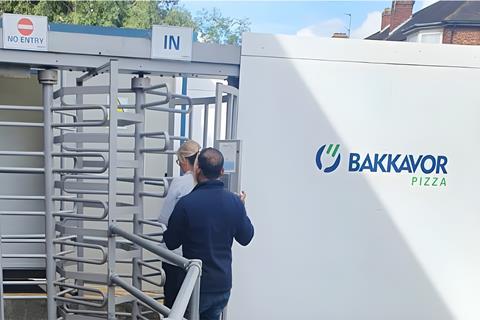 Production staff at the Bakkavor Pizza factory in Harrow have voted to go on strike in a dispute over pay.
The London branch of GMB trade union reported that 78% of its 400 members working at the site had rejected a 5.9% salary increase offered from the manufacturer during an indicative strike ballot held last week.
GMB said it would now proceed to take formal steps towards industrial action, that "could mean pizza supplies will be severely disrupted for some of the high street's popular supermarkets", including Sainsbury's, Waitrose, and Tesco.
Bakkavor, however, claimed its offer was "both fair and reasonable". While expressing its disappointment for not reaching a deal with some of its employees, it confirmed there were contingencies in place to prevent disruption for its customers should the strike go ahead.
A better deal
GMB said it was time that Bakkavor Pizza's predominately female workforce from Asian communities had a decent pay rise.
"Our pay claim is for 13.4%, that is what we want," said a union member, whose name was not disclosed. "Many of us relied on overtime but since the introduction of faster automated production, the opportunity for overtime that helped boost our pay is rare."
Via a call with British Baker, GMB London region organiser Trevlyn McLeod revealed that their least experienced union member still had around eight years of service at Bakkavor Pizza, while some members had worked in Harrow for 30 years.
Despite Bakkavor claiming that the GMB membership accounted for a minority of its colleagues at the site, McLeod said roughly half of the total workforce on the production side comprised of union members.
"Workers here believe they are worth more," comment McLeod. "They want their voices heard and that is why our membership numbers are increasing daily. Now that GMB has secured a strong mandate for industrial action, it is hoped that Bakkavour Pizza at Harrow will finally recognise the value of their staff and how they have been impacted by the cost-of-living crisis and put forward an improved pay offer."
Upon announcing its half year results to 1 July 2023 earlier this month, Bakkavor reported that its pizza and bread categories had performed strongly relative to the overall fresh prepared food market. It adjusted UK operating profit was up £1.1m to £44.8m, with operating profit also £44.8m, up £2.5m.
"GMB can see no reason why Bakkavor will not offer our members a decent pay increase," said McLeod. "It's not a good look for a large wealthy organisation to have some workers forced to turn to food banks because their rate of pay doesn't cover their basic living cost".
Bakkavor responds
A company statement issued by Bakkavor said that it had been "awarding strong and competitive pay increases to support its colleagues", despite the challenging economic environment. "Bakkavor believes its proposed 5.9% pay award for colleagues at its Harrow pizza site is both fair and reasonable," it added.
The proposed offer at Harrow would continue to maintain all hourly pay rates above both the National and London Living Wage, asserted the company, and was also part of a broader package of benefits including a heavily discounted staff shop, free tea and coffee, free parking and access to a range of employee benefits including a pension scheme.
"Over several months, we have been in discussions with the GMB Union regarding the 2023 annual pay award for colleagues at our Harrow site and we are disappointed not to have been able to reach an agreement with them," continued Bakkavor. "They have informed us they will now proceed to ballot their members for industrial action."
Bakkavor noted that its failure to reach an agreement with the union has resulted in pay increases being delayed. "We have put forward a number of strong offers and engaged in an ACAS conciliation process. Bakkavor's proposed 5.9% pay offer for colleagues in Harrow is both competitive in the local market and affordable to the business," it said.
"Should the strike action go ahead, we have robust and detailed contingencies in place to prevent any service disruption for our customers through the utilisation of the spare capacity at our pizza site in Lincolnshire," the company added.
The strike announcement is the second in as many weeks from union workers at major UK bakery suppliers, with sandwich makers at Greencore's factory in Manton Wood, Nottinghamshire, voting to down tools and hit the picket line from 11 September.