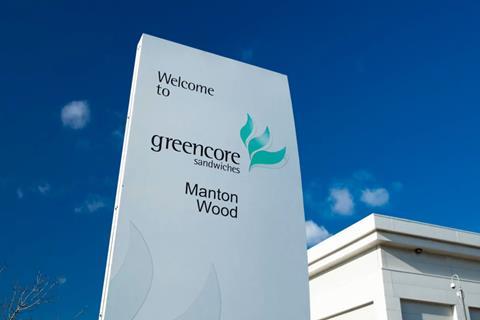 Greencore workers at the convenience food manufacturer's production site in Nottinghamshire are set to begin strikes on 11 September in a dispute over pay.
Trade union Unite announced the plans for industrial action on its website earlier today. It claimed that over 500 of its members were demanding increased salaries after earning as little as £10.53 per hour working at the factory located in the Manton Wood Enterprise Park near Worksop.
According to Unite, its members involved in the wage dispute perform a range of vital roles at Greencore including factory line workers, quality controllers, store workers, and cleaners. They had been left with no choice but to head to the picket line, claimed the union, with strikes set to begin on 11 September and lasting until 9 October.
Unite also highlighted Greencore's reported full-year profits of over £15m. The company's most recent financial results (up to 30 September 2022) posted a £15.8m profit on ordinary activities after tax for the period.
"Greencore workers do difficult work to ensure that sandwiches reach supermarket shelves across the country," commented Unite general secretary Sharon Graham.
"Yet their employer, whilst making substantial profits, sees fit not to share the spoils with its workers. Our members will have the unceasing support of Unite in their fight for improved pay," she added.
Company response
Greencore said it had been in discussions with union representatives since January regarding pay in respect to colleagues at its Manton Wood site.
"We are disappointed that Greencore's final pay offer, which we believe to be both strong and competitive, has been rejected by union members on a small turnout," said a company spokesperson.
"We will be undertaking a number of planning and mitigation measures at the site in the coming weeks in order to prevent any disruption to service levels for our customers should potential industrial action take place.
"In parallel, we will continue to liaise with both Unite and our Manton Wood colleagues with the aim of reaching agreement," added the spokesperson.
Greencore is a manufacturing giant in the foot-to-go sector. It supplies frozen, chilled and ambient products including sandwiches, sushi, quiches, salads, snacks, soups, sauces, and ready meals to major retailers including M&S, Sainsbury's, Tesco, Asda, Morrisons, Waitrose, Aldi, Lidl, and Co-op as well as high street chains like Boots, Starbucks, and Caffé Nero.
The Greencore website lists a total of 16 locations for factories across the UK, as well as a head office in Dublin and a UK office in Manton Wood. Last October, it reported full-year revenue of £1.7bn (up from £1.3bn in 2021), with a total of 975m sandwiches and other food-to-go products manufactured, although it noted growth had been impacted by factors including rail strikes.
A rise in the popularity of supermarket meal deals has spurred a recent sales spike for Greencore, with the company announcing in July a 1.9% increase in revenue year-on-year during the third quarter of the 2023 financial year. This translates to a pro forma revenue increase of 9.3% when compared to the year prior. Recent research from Greencore found that 52% of sandwiches at supermarkets are bought as part of meal deals.